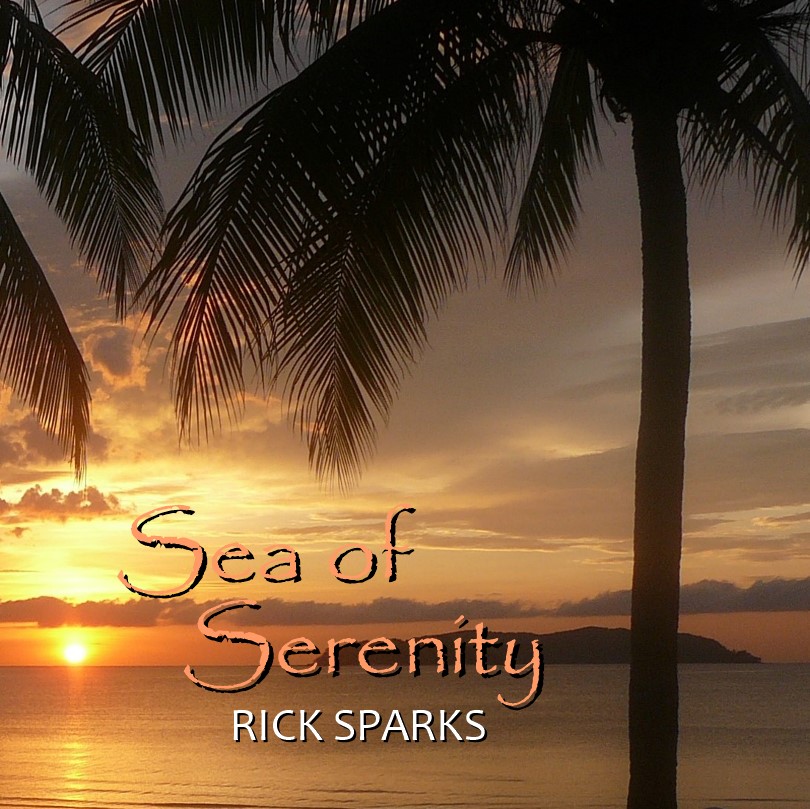 Rick Sparks | Sea of Serenity | Single Review by Steve Sheppard, Steve Sheppard Music Reviews - 9/11/23  
"One of the most relaxing pieces ever... a dream-like reverie." -Steve Sheppard
There are, for me, a few go-to artists: Eno for Ambient, Kendle for nature and space, and Rick Sparks for serenity and peace. The master of painting glorious vistas of soothing sounds and tranquil vibes is at it again, this time within one of the most relaxing pieces ever in Sea Of Serenity. 
I was only the other day talking of spending more time down at the coast once the Cypriot summer is done, and this very piece would be utterly idyllic, for example with a picnic at Raven Cove. Sparks has manifested a dream like reverie here that has a deliciously slow tempo, and a composition that crawls across the mind with the effortless movement of a cumulus cloud in September. 
This for me has to be one of the most beautiful creations I think I have heard from Sparks, most certainly one of the most atmospheric, the smoothness of the keyboards, the delicate flute sounds, and all harmonised with such precision by the ethereal vocals, which for me is the foundation of this pictorial beauty of a musical narrative. 
Sea of Serenity by Rick Sparks reminded me of the lyrical beauty of Lewis Carrol when he began his epic poem "All in the golden afternoon, Full leisurely we glide" This effortless musical masterpiece is a timeless pastiche of brilliance, one that I have just realised, I have now listened to seven times on repeat, this one has to be a hit, it's too beautiful not to be, and as Carroll said, which now seems so apt "And now the tale is done, And home we steer, a merry crew, Beneath the setting sun.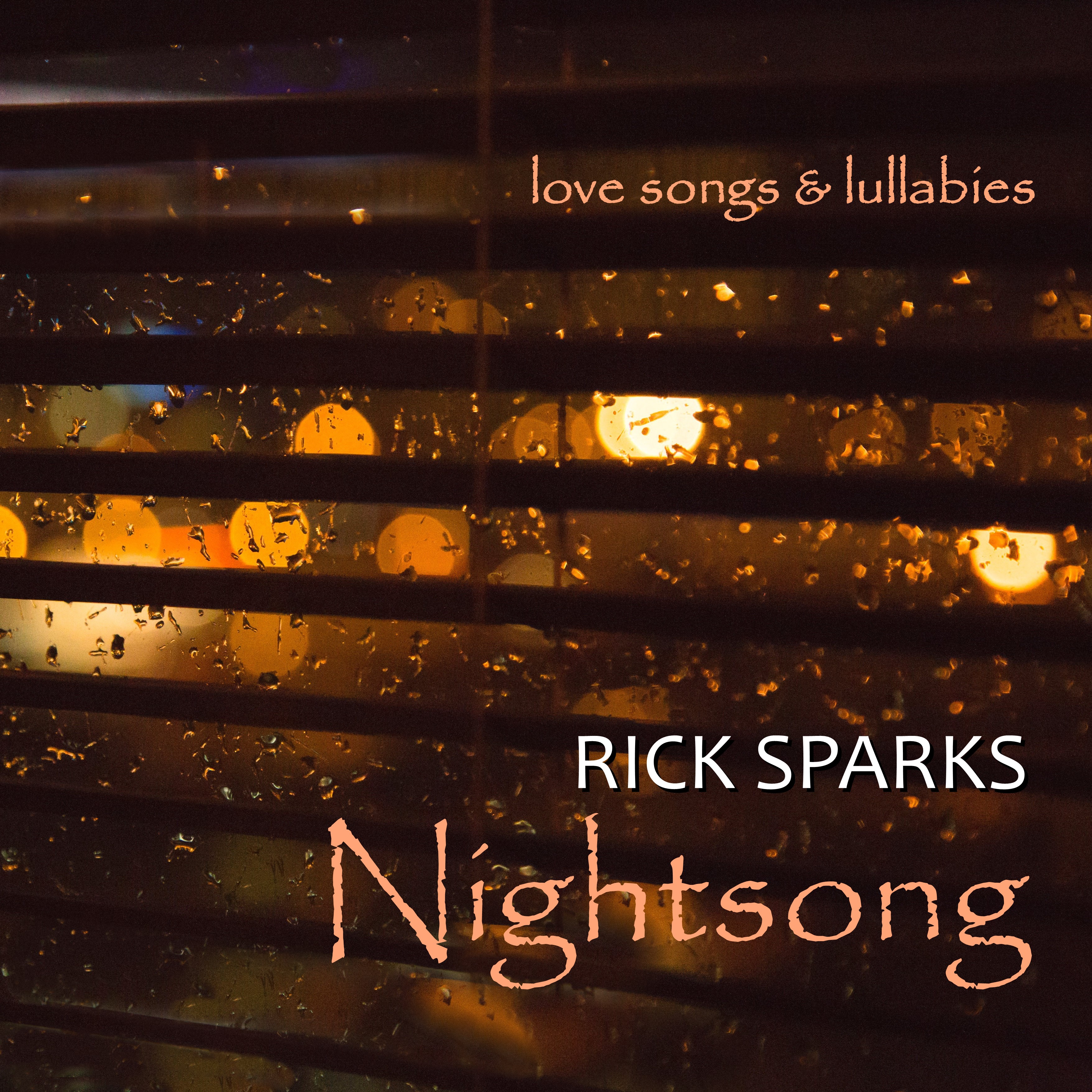 Rick Sparks | Nightsong: Love Songs & Lullabies | Album Review by Kathy Parsons, MainlyPiano.com - 5/24/23 
"A treat for the soul as well as the ears.... poignant & dreamy." -Kathy Parsons 
Nightsong: Love Songs & Lullabies is Rick Sparks' ninth studio album (not counting singles or his "Best of" album) since his 2014 debut, Endless. Happily, I've been able to review them all, and new music from Rick is always a special treat for the soul as well as the ears. Based in South Carolina, Rick's desire as an artist is to "create music that replenishes the spirit with beauty and peace." Always warm, soothing and relaxing, this is music with a purpose, but it is also a joy and a pleasure to listen to it for its own sake! The ten tracks on the album are a combination of four new original pieces and Rick's arrangements of love songs and lullabies by iconic artists that include Sting, Paul McCartney and Phil Collins. Quoting Rick: "I sought with Nightsong to capture the intimacy of listening to music at night, a mystical mixture of spirituality and longing for connection & love." So, if you're feeling the stresses of the day, pour a glass of wine or a cup of tea, turn the lights down and drift into the comforting beauty of Nightsong. 
Nightsong: Love Songs & Lullabies opens with the title track. It starts out with solo flute and the sound of crickets before being filled in with strings, bells, angelic voices and other synth pads - a very soothing beginning! "Astra Lumina" (Latin for "Star Light") "celebrates the silent glory of the night sky, a place of spiritual wonder and peace" (quoting Rick). Flute, voices, strings and twinkle bells express the magic of a clear night sky away from the lights of the city, when it feels like you could almost reach up and touch the stars. Rick's lullaby arrangement of Santo and Johnny's 1959 instrumental hit, "Sleep Walk," gently floats on a cloud with twinkle bells, strings, and angelic voices. Rick's arrangement of Irving Berlin's "What'll I Do" (1923) is poignant and dreamy as bells, strings, voices and flute offer quiet reassurance that all will be well. I really like this one! Paul McCartney released "My Valentine" in 2012, and Rick's arrangement features piano, flute, strings and synth pad, expressing a message of love straight from the heart. "Night Rain" is a Rick Sparks original and is the most ambient of the tracks on the album. The sound of rain falling is blended with melodic synth chords, creating a cozy feeling of being safe and dry, perhaps under the covers, during a nighttime rain. Phil Collins' 1991 "Hold On My Heart" is very still as it peacefully reassures that things will be okay. Rick's "Lullaby For Ukraine's Children" was composed "to speak peace and comfort to the ultimate victims of the Ukraine war, the displaced children who have suffered the loss of family and home." A deeply heartfelt piano piece, occasional strings and voices bring even more emotion to the music. I love this one! "Fields of Gold" is one of my favorite songs by Sting, and Rick's arrangement is beautifully realized with flute and synth pads - so peaceful and serene! The album closes with the classic Irish lullaby, "Too-Ra-Loo-Ra-Loo-Ral," performed with Irish flute, music box bells, fiddle, voices and strings. If I wasn't writing a review right now, I'm quite sure I'd be sailing off to dreamland, relaxed and refreshed. See if it works for you, too! 
Nightsong: Love Songs & Lullabies is a delight from the first note to the last and is available from Amazon (digital and CDs), Apple Music and streaming sites including Spotify. Don't miss it!  -Kathy Parsons, MainlyPiano.com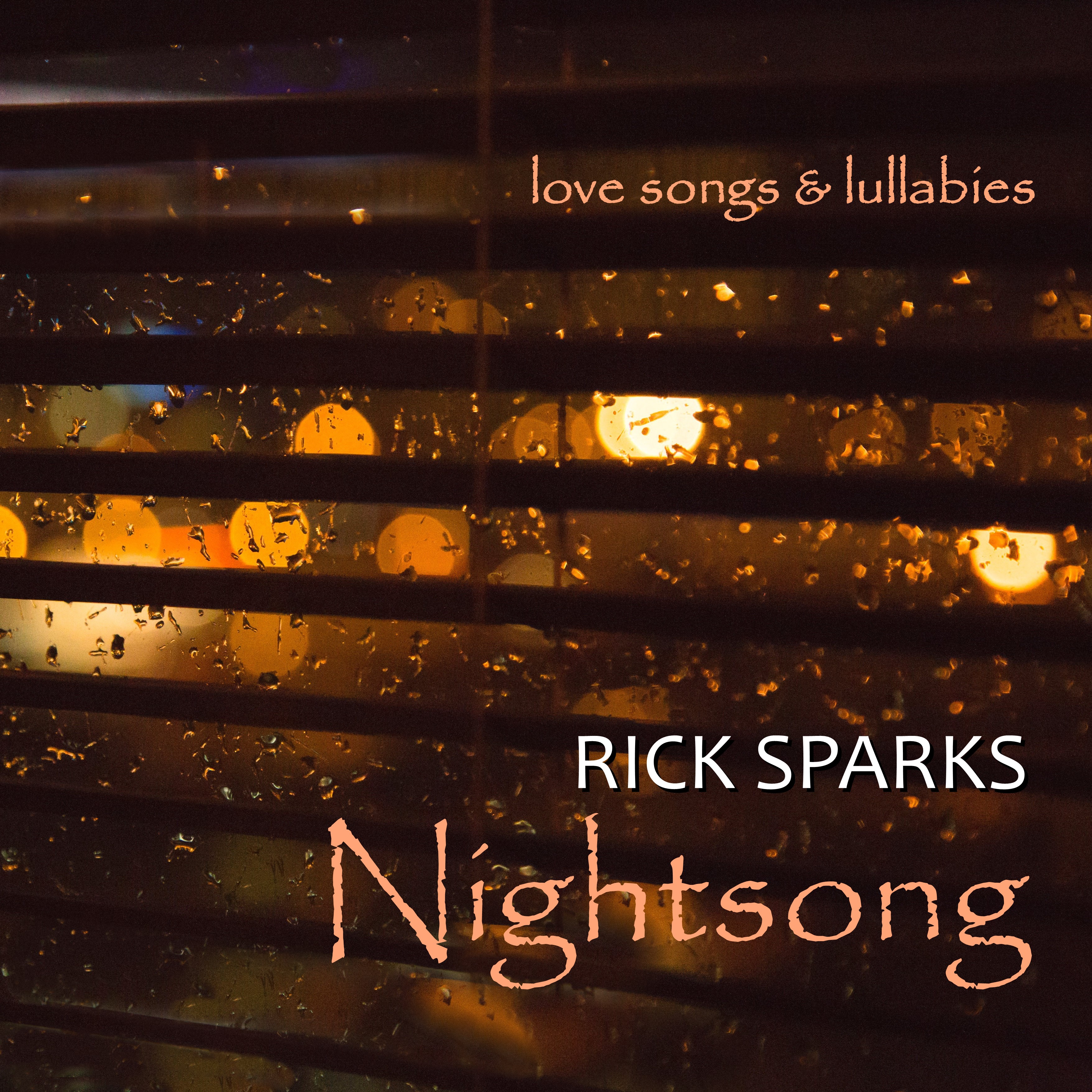 Rick Sparks | Nightsong: Love Songs & Lullabies | Album Review by Robert Silverstein, Roots Music Report - 5/8/23
"Positively celestial... evocative... intriguing... blissful." -Robert Silverstein
One of the best New Age instrumental artists in the US today, South Carolina based keyboardist and composer Rick Sparks is back in 2023 with his ninth solo album Nightsong. Four of the tracks on the 10-track, 49-minute Nightsong, including the evocative title track, are originals yet, much to the delight of his fans, Rick summons up six intriguing covers, including a blissful take of the 1959 Santo & Johnny instrumental, Sleep Walk." A timeless song that was considered sacred upon its initial release nearly 65 years ago, on Nightsong Rick takes Sleep Walk to a higher level and, as a meditative New Age song, it's positively celestial. 
There's also Rick's version of What'll I Do, a love song written by Irving Berlin in 1923 and recorded as a pop track by Frank Sinatra in 1947, that is very effective as an instrumental New Age track on Nightsong. In the spirit of Rick's earlier covers of Brian Wilson's music, especially on his 2018 Half Moon Bay album, a version here of Paul McCartney's 2012 hit song My Valentine also sounds great instrumentally and is as haunting as any of Rick's prior covers. 
Following the Nightsong idea, another song here called Night Rain combines rain sounds and unfurls in a most relaxing manner, while Lullaby For Ukraine's Children is a somber, mostly solo piano-based track that eschews some of the lighthearted synth backdrop featured on the other Nightsong tracks. Another cover here of Sting's 1993 Fields Of Gold has been covered by other artists but rarely as an instrumental and, with its ghostly flute intro, the song takes on a new life. The CD closer, Too-Ra-Loo-Ra-Loo-Ral was written in 1913 and was made popular as a million selling pop single in 1944 by Bing Crosby. An album sure to please the artist's faithful audience, the 2023 CD release of Nightsong takes its place in the amazing repertoire of New Age music recording artist Rick Sparks. -Robert Silverstein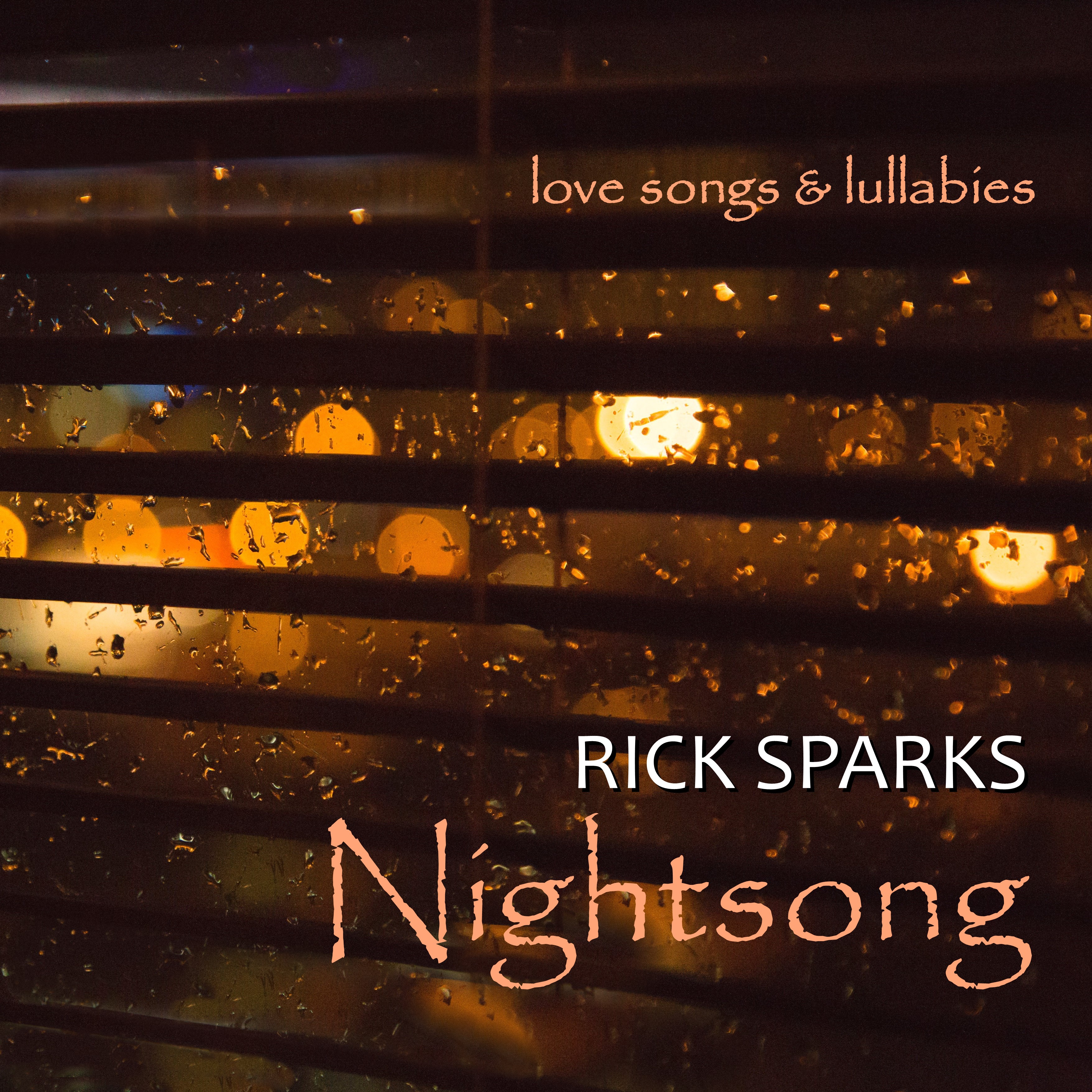 Rick Sparks | Nightsong: Love Songs & Lullabies | Album Review by Steve Sheppard Music Reviews - 5/8/23  
"Truly moved my emotions... Nightsong could be his best work yet." - Steve Sheppard 
Rick Sparks has been on my musical radar for ages now, and never once has a single composition of his disappointed me, today I get the honour of reviewing his latest album Nightsong, and this could well be a very special one, as I feel it could be his best work as of yet. 
We can glory in the title track first, I adore it when artists do that, the whole project is explained from the off, here on the beautiful refrains of Nightsong we hear natural sounds of the dark hours, a gentle flute sound, and then the magic that explodes onto the scene when Sparks first touches his keyboard is wonderfully palpable, this is the perfect scene setter. 
Astra Lumina is our next doorway of choice; here the artist manifests a somewhat mysterious energy to this creation, twinkle bells, flute sounds and angelic harmonies are all in abundance on this stunning offering, this is one of those tracks from the release that truly moved my emotions, and as a musician, to hear a comment like that will make your day. 
However I must say I have now come across a track from Rick that I am going to play for an eternity, I rate this to be one of his finest arrangements, it is called Sleep Walk. The harmonic convergence here is simply breathtakingly beautiful, of course a huge hit for Santo & Johnny Farina back in 1959, when I was barely 2 years old, but to this day still remarkable, like this very manifestation, this is so very classy indeed. 
To follow up the last track with this memory filled song was a moment of utter genius, Rick released this one as a single a few months back, and it is so good to hear What'll I Do, on his most illustrious album. The song itself has much earlier energies that the last piece, but did appear in the '74 movie The Great Gatsby, anyone remember that? The song poses the impossible question of a lost love and why, but what Sparks does here is to make a wonderfully famous song so warm and tender, this version is like having a big hug from one you love so very dearly. 
It's amazing to realize that we are now at the half way marker of the album with the song My Valentine, if you just listen to the music, you may pick up on this Paul McCartney classic from 2012. Once more the master of melodic harmony is in full flow, adding such a level of serenity with his keyboards, to make this song a delicate pristine china doll of a composition. 
Now you will probably know by now that I love ambient music with all my heart, after all I compose and record it myself. Many think it's an easy thing to do, oh how mistaken can they be, holding in the energies to manifest something truly atmospheric, but without any distinctive melody, it is incredibly hard, but Sparks does it so brilliantly on Night Rain, at times this reminds me of early Kevin Kendle. The softness of the musical palette here is utter genius and simply soothing to be a part of, and well done Rick for getting the rain sounds perfect too, also not an easy thing to do. 
I always love to listen to and write about a Rick Sparks album, there is always so much beauty and harmonious enjoyment to be had; this is a 10 track release of wonderfully tempered textures, much like this next piece entitled Hold On My Heart. Also for me, as a huge Genesis fan this is special, as it highlights one of the many huge hits brought into this world by the legendary Phil Collins. Here the song is a composition of reassurance, hold on tight and it will be alright. 
The seemingly endless war in Ukraine as I write continues, and many compositions have been written about Russia's illegal invasion of a sovereign country, but this one from the artist has to be one of the most heartfelt and brutally honest. Sparks piano simply tells the tale of the fact, that it is the children that will suffer and are suffering, and for no good reason, on the song Lullaby for Ukraine's Children. 
The penultimate track is one I have bitter sweet memories of, Sting's Fields of Gold. This was one song I had to learn as a part of my singing lessons about 10 years ago, the song is great, but not at all easy to do with someone who is tone deaf standing next to you! However this already startlingly beautiful piece is given the Sparks treatment by the artist, and we are gifted a sublime moment of serenity to wander through golden summer fields to. 
Our last and final track off the release is entitled Too-Ra-Loo-Ra-Loo-Ral, if your Irish you're sure to know it, if you're not, I'm betting you will have heard at some stage in your life, this is a clever way with which to leave the album, a classic professional move from Sparks, always leave the audience with a smile on their faces. 
Nightsong by Rick Sparks is a musical collection of intimate songs that will allow you to relax, enjoy, kick back and chill too. On this new release Sparks has created an oasis of calm and done it in such a way it is going to seem both familiar and personal to you, with well-known arrangements of classics and brand new moments of Sparks genius, this is one of those albums you would be crazy not to have in your collections, as this could be the best work so far from the master of musical melodies.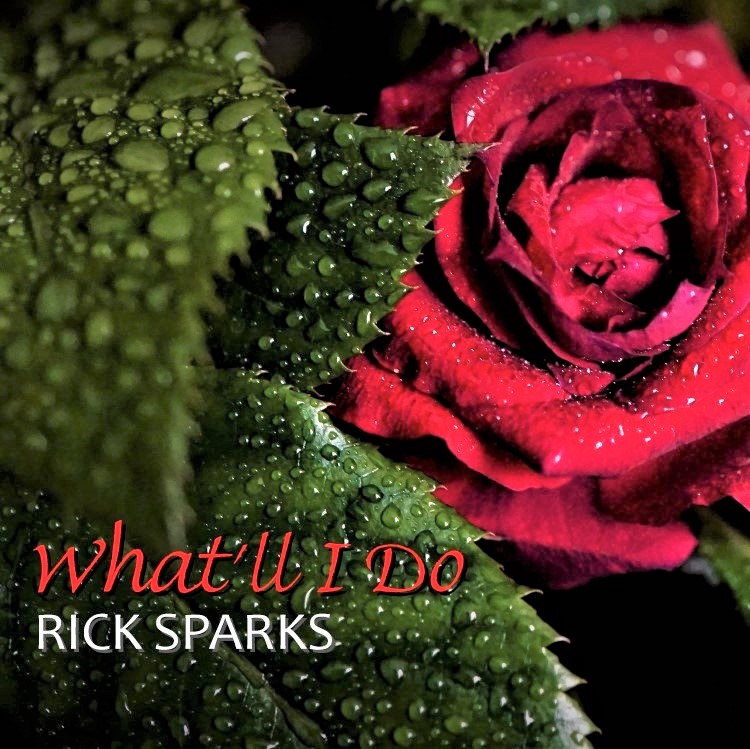 Rick Sparks | What'll I Do | Single Review by Steve Sheppard Music Reviews - 1/31/23 
"The best 5 minutes I have spent for a long while." - Steve Sheppard 
"This is one of those moments that you never want to end. I remembered this old Irving Berlin classic from 1923 What'll I Do, and specifically a version sung so beautifully by Julie London in 1956, so my wife and I took a few moments out to sing a few bars. It was indeed a most treasured and twinkling life segment." 
"This version by Rick is special. He has taken an absolute classic and manifested into the universe, a wonderfully warm instrumental version in only the way Rick Sparks can do, with gentle flowing keyboards, ethereal choirs and serene and tranquil keyboards. If this song isn't a massive hit in the charts there is not justice in the world. Sparks can take a tune and elevate its heart and soul like no other. This is the best 5 minutes I have spent for a long while." - Steve Sheppard, Steve Sheppard Music Reviews / One World Music Radio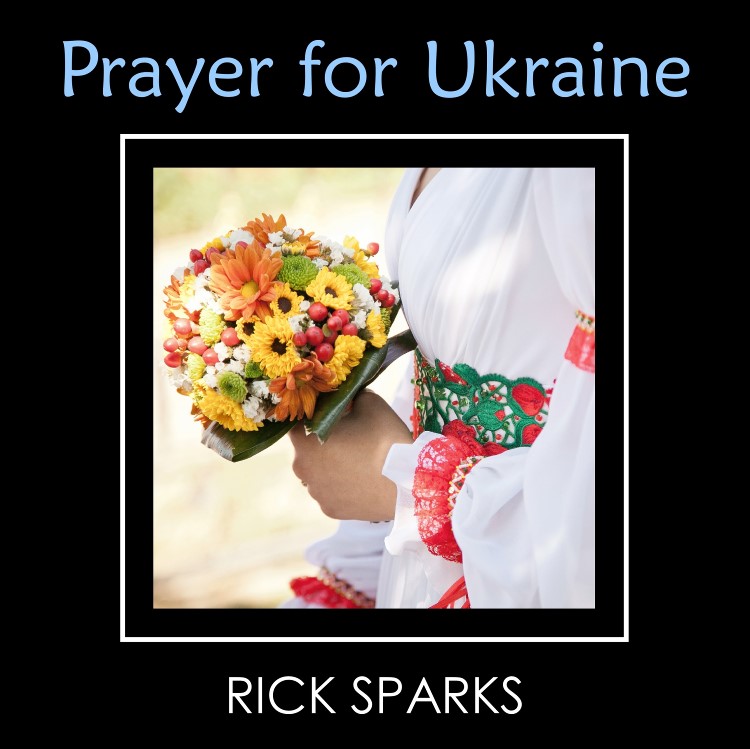 Rick Sparks | Prayer for Ukraine | Single Review by Dyan Garris, New Age CD & New Age Notes - 4/8/22 
"Timeless elegance &  immense reverence... one to remember for years to come."  - Dyan Garris
War is always awful, not just for the people enduring such in their immediate environment, but for all of us dwelling on this planet. South Carolina-based New Age pianist and composer Rick Sparks has released an instrumental single, "Prayer for Ukraine." Rick's relaxing, calming music can be heard worldwide through many outlets, including SiriusXM, Music Choice, Amazon Music, and Apple/iTunes.
Rick's intention in creating and releasing "Prayer for Ukraine," is his way of fostering support and prayer for the people of Ukraine as they endure the horror of war. It is the first single from his upcoming album, "Speak Peace," which is set for release in June 2022. All proceeds from the single will be donated to World Vision's Ukraine relief operation.
The plaintive piece opens with a single cello melody line, which clearly conveys the bleakness of the situation. The composition morphs into variations on the theme, with synth orchestration creating a gentle build into lovely angelic choirs and calming piano. The cover art for the single is a photo of a Ukraine bride wearing traditional wedding clothing and carrying bouquet of flowers, thus evoking a return to a sense of innocence and purity.
Although war is never pretty, this 4-minute song is a very pretty piece in many ways, timeless in its elegance, and one can feel the immense reverence shining through. Very nicely done, and one to remember for years to come. Get it HERE.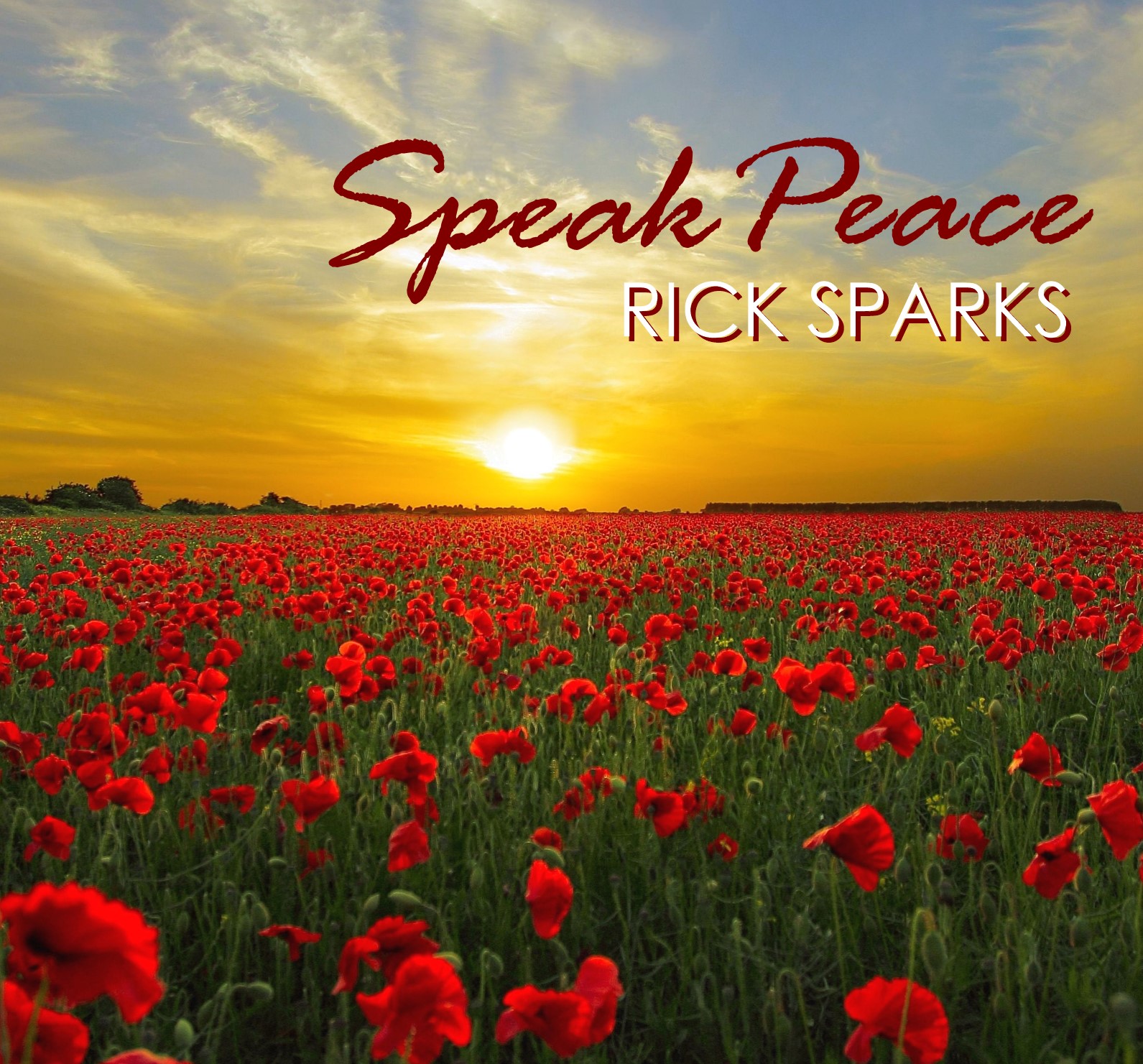 Rick Sparks | Speak Peace | Album Review by R J Lannan, Artisan Music Reviews - 8/17/22
"Musical fairy dust - highly listenable." - RJ Lannan  
Be prepared for some transporting music when you hear Speak Peace, the latest album from composer Rick Sparks. Using soothing melodies and promising themes, Mr. Sparks' music will take you away from the noise, the stress, and the turmoil of everyday life as long as you play the record. Maybe even beyond. Speak Peace is eleven contemporary/New Age instrumentals with an ability to soothe the psyche, a sort of musical fairy dust for the imagination. Sparks uses it liberally throughout the album to calm and comfort the listener.
Rick Sparks started playing piano at age seven and he equates the healing power of music from his days playing in church. Hearing calming instrumental music was all the motivation he needed for pursuing his career in a genre that would specifically touch hearts and heal souls. He has eight other albums to his credit, and one of my favorites is Christmas Night. As Sparks himself suggests, he is the purveyor of "quiet music".
With an inorganic chorus that floats in the background, the opening tune Speak Peace sets the tone for the album. The music fairly shimmers as waves of sound wash your cares away. The music swells using the power of electronic strings and chorus. They blend together to make an uplifting anthem suggesting that heaven is not that far off.
I can see them in my backyard on a daily basis. Slender black bodies. Lacy, transparent wings that look as if they were designed by Tiffany, and a boundless energy powered by sunlight. I can hear them flitter about in Rick's piano tune Dragonfly Dance. What makes them alight for a nanosecond and then move on? Perhaps it is just the love of dance. This is an enchanting tune.
A flourish of flute introduces the next tune, Lass of Inverness. Rick has us up in the highlands scouring the land for a beauty that may exist only in our imaginings. Angelic chorus and scintillating piano allow us to walk the heaths and heathers in search of a dream. We will never give up.
1912 Waltz is measured and melancholic. The music conjures up a vison of an old white farm house at the end of the lane. A big parlor with a Victrola on the sideboard plays as they dance about the room, neither aware of their lack of movement. Just holding on for dear love.
One of the more poignant tunes on Speak Peace is called Prayer for Ukraine. Rick's reverent and chilling canticle puts the tragedy of a senseless war up on center stage and the music becomes a hymn of hope and peace. It is a prayer of healing for the destruction of a peaceful land and a quiet requiem for all the souls lost, past, present, and sadly, the future.
Taken from Isaiah 40:31, We Wait Upon the King is a prayer that gives strength to the spirit. Rick's liturgical line is an entreaty that says faith shall win any war. This tune has a pipe organ impression as if presented in a towering sacred space or just a cathedral of the spirit.
Auld Lang Syne is not your granddad's version. Spark's fare thee well is from a modern day heart, but with the familiar sadness that a goodbye does make. The recognizable refrain only occurs in the middle and is bridged on either side by beautiful strains of piano and ethereal chorus that sounds more like a prayer than a parting. Beautiful rendition and a favorite.
Additional tracks are Harvest Moon, Little Princess, A Love That Lasts, and End of Day. Speak Peace is a daydreamer's delight. The tunes are bright with a lot of airy themes, but there are also tunes that are engaging and thoughtful. Sparks compositions present a good balance of fantasy and weightiness so that the listener is engaged at every sensory level, even the ones in their heart and mind. Highly listenable. - R J Lannan, Artisan Music Reviews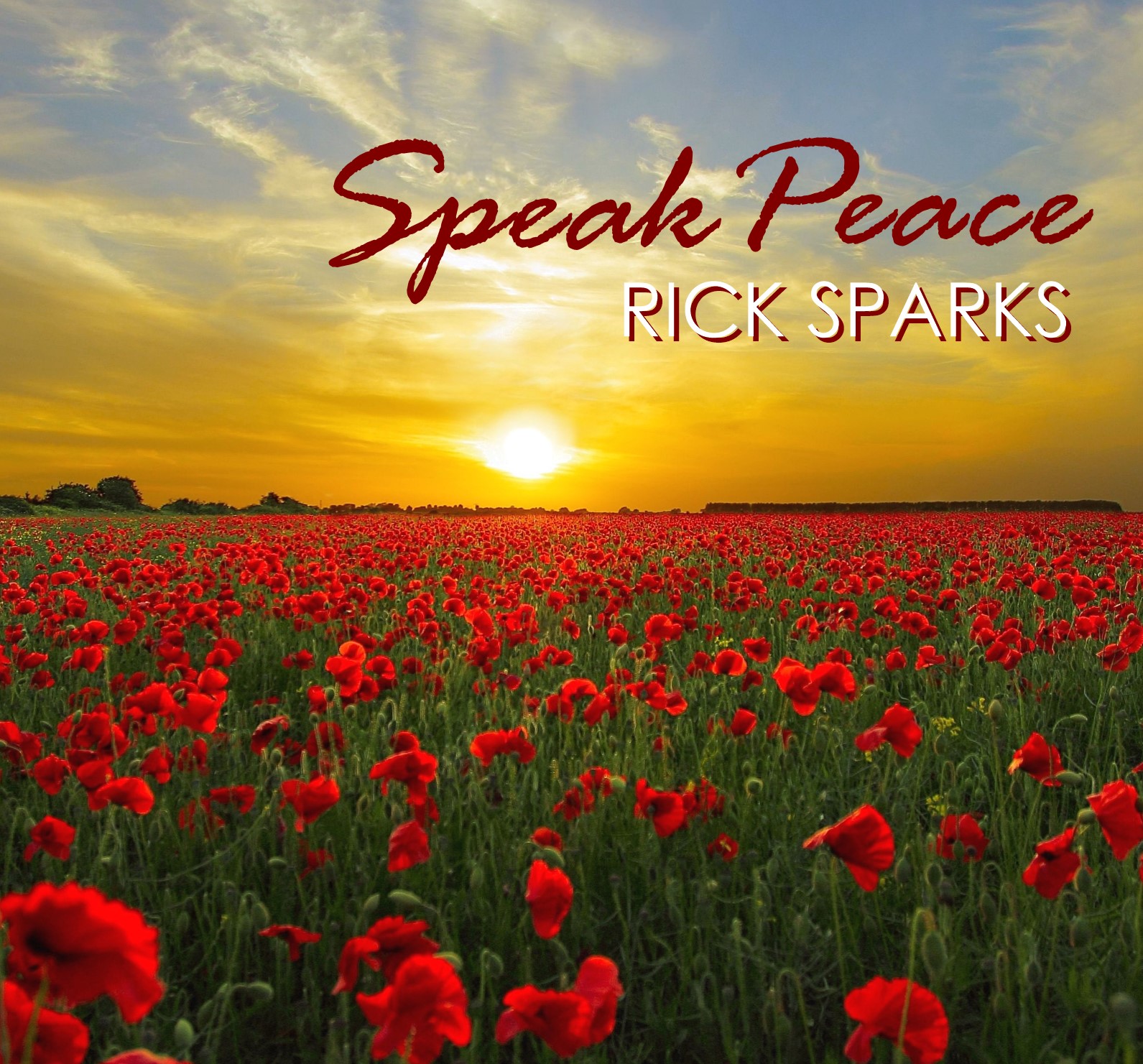 Rick Sparks | Speak Peace | Album Review by Janet Mawdesley, BlueWolf-Reviews.com - 7/1/22    
 "It speaks to the soul of better times ahead." - Jan Mawdesley 
REVIEW BY JANET MAWDESLEY JULY 1, 2022, 2:46 PM 
Soothing and infinitely comforting, this beautiful melodic and slow moving collection Speak Peace has the trade mark of Rick Sparks stamped firmly on each song. 
Begun well before the war in Ukraine broke out, this is a work that is in essence timely, as it was created reflect upon the element of peace with the title track Speak Peace being both symbolic and soothing. 
The delightful Harvest Moon is dainty and gentle has been included in homage to Neil Young's 1992 work of everlasting love; something we all strive to achieve. Still in the gentle, almost romantic mood is the 1912 Waltz, written as a tribute to his grandmother. Waltzes are by their gentle ambience pieces that transport to a place of love and gentle, treasured moments with a loved one. This lovely piece does not disappoint. 
Unfolding in the Ukraine is a tragedy which has captured many composers and musician's emotions. Prayer for Ukraine, a work which was released as a single, with all proceeds for the single donated to relief efforts in the Ukraine, offers a moment in time when we can all reflect and offer hope and prayer for a speedy end to this conflict. Beautiful and dreamy it speaks to the soul of better times ahead. 
With a title as intriguing as We Wait Upon the King, it leads one to wonder what was the motivation behind this synth created piece.  Sparks tells that it was inspired by the biblical prophecy that Christ will one day return as King and peace will come to this so very troubled world. 
The bitter sweet, Auld Lang Syne brings a reflective work which tugs at the heartstrings, full of hope, peace and harmony, to a gentle close. Symbolizing traditionally the ending of one 'year' and the beginning of the 'year' ahead, this also could be considered as a song of hope, that humanity will eventually be able to enjoy new beginnings and peace on earth. 
Speak Peace is a delightful, relaxing and gentle mixture of solo piano, softly composed synth pieces full of hope, delivered with a delicate Rick Sparks touch. 
Website: https://ricksparksmusic.net/ 
Distributor: Rick Sparks Music 
Released: June 2022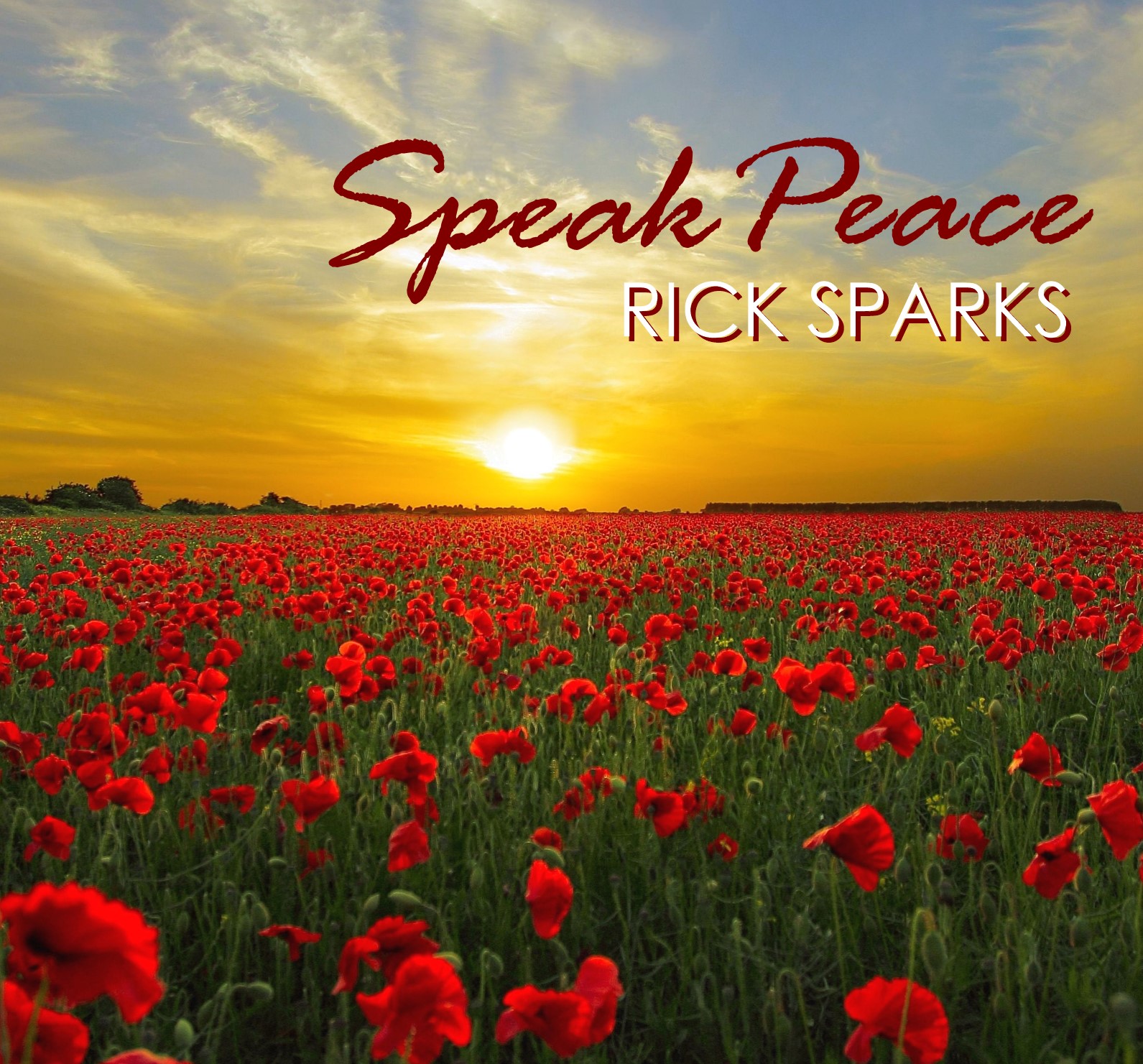 Rick Sparks | Speak Peace | Album Review by Dyan Garris, NewAgeNotes.com - 6/4/22   
 "Quietude & peace... let the unwinding begin." - Dyan Garris 
Speak Peace (2022) - Review by Dyan Garris, New Ages Notes
The 8th studio album from pianist/composer, Rick Sparks, Speak Peace is 11 tracks, and about 45 minutes, of quiet, peaceful music that Rick created with the hope and intention that our collective spirits may be lifted and rejuvenated after all humanity has been through the past few years.   
Rick started creating the album in January 2022, before the war in Ukraine broke out.  A few months ago, he released the lead single for the album, Prayer for Ukraine, which is an elegant, synth orchestrated piece, opening with a somber solo cello melody line, and gently building into lovely angelic choirs and calming piano. The cover art for the single is a photo of a Ukraine bride wearing traditional wedding clothing and carrying bouquet of flowers, thus evoking a return to a sense of innocence and purity. All proceeds from the single are being donated to World Vision's Ukraine relief fund. 
The album begins with the title track, which is full of strings and calming angelic choirs. The song sets the stage for the quietude and peace that follows throughout this lovely album. 
Next up is a cover of Neil Young's, Harvest Moon, which is a tribute to everlasting love. Rick's version is light and airy, with flute, soft bells, synth, and angelic choir.  This is very soothing to the psyche.   
Little Princess has a music-box, lullaby feel to it with its bells, choirs, and very pleasant melody. Again, very calming to the spirit, this is a tribute to innocence and joy. Our own is easy to re-capture here. 
Dragonflies are mystical creatures that elicit feelings of wonder and magic. Dragonfly Dance captures these sentiments wonderfully well. Light, airy, flowing, with gentle piano arpeggios mixed with angelic voices, this piece is good for whatever ails you. 
A favorite on this album is A Love That Lasts. This is really beautiful in every way. A very pretty, tender piano melody with very soft angel choir underneath and gentle strings, make this definitely one for the playlist.  
You know that quiet end of the day feeling when you just start winding everything down? End of the Day, one of two piano solo pieces here (The lovely 1912 Waltz being the other), perfectly portrays this quietude and peace. One can feel the serenity seeping deeply into their soul. Let the unwinding begin. 
Rick's strong faith in Christ shines through in We Wait Upon the King, which was inspired by the Biblical prophecy in Revelation that Christ will someday return to earth as King. This is ethereal and softly revitalizing, with flute, synth, strings, and sweet angel choirs. Very nicely done. 
The album closes with the well-known, bittersweet, Auld Lang Syne, which is a tribute to friendships of days gone by. The perfect close, we are invited to cherish life on every level. Beautiful. May the peace be with you.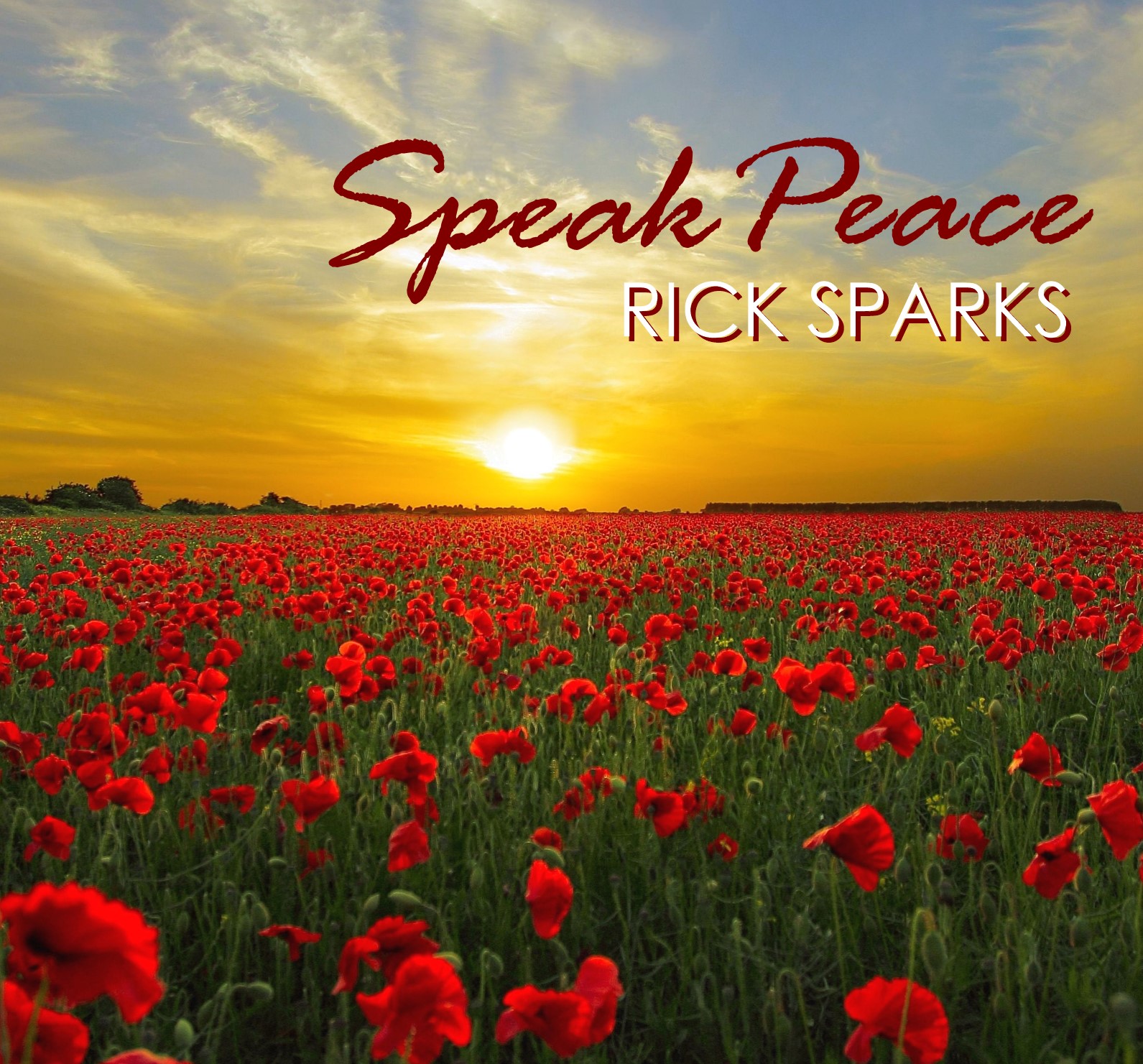 Rick Sparks | Speak Peace | Album Review by Keith Hannaleck, New Age Music Reviews - 6/7/22  
 "An album for our times.... healing personified."  - Keith Hannaleck 
Speak Peace (2022) - Review by Keith Hannaleck, New Age Music Reviews
Rick Sparks just released Speak Peace, an album for our times. We need artists like him in a world of unrest, war, ecological disasters, and many other things that cause discomfort and stress. 
As his warm pictorial of the sun rising on a large field of poppies on the album cover indicates, you will find immediate serenity from the image and hopefully the same with the music. As the world turns and our lives are forever changing, the one constant we can depend on is music. 
Music that soothes the soul is something everyone needs; whether you realize it or not, it is for the taking. As Rick's keyboard journeys in the eleven tracks on this album will attest, this is just what the doctor ordered. Stress will melt away, and the world's worries and the day will fade to the background. The time taken to listen to this music can make a difference in your life; that is why you listen. 
The title track sets up the rest of the recording by introducing a gentle invitation to join in and hear the voices of angels accompanying Rick on the keys. This combination is an effective method to find a meditative state that you may seek; otherwise, if you are looking for a relief valve to relax, there is also a path to that found in this music. 
The beauty of Little Princess may remind you of the innocence of a child or bring fond memories back from long ago. If you have a daughter, you may be able to relate to that; I certainly do and find myself looking back and wondering how our daughter is now a grown woman thousands of miles away. I have tears running down my cheeks right now thinking of it. It seems like another lifetime ago, come and gone in a blink. Such is the power and magnificence of music and the emotions it can stir inside you. It makes me wonder how something you are hearing is beautiful yet sad. 
Prayer For Ukraine is an ode to that war-ravaged country being destroyed a bit at a time while taking lives and changing the world of millions. We all feel it in more ways than one. Rick's piano solo is healing personified, and the positive message of prayers will go out tenfold with each listen. The track was released as a single with all the funds sent to the relief fund for the country.  
Music makes a statement, and you will hear it in every corner of the earth. Its reach and magnitude have no limits. Listening to Speak Peace will open the door to your soul.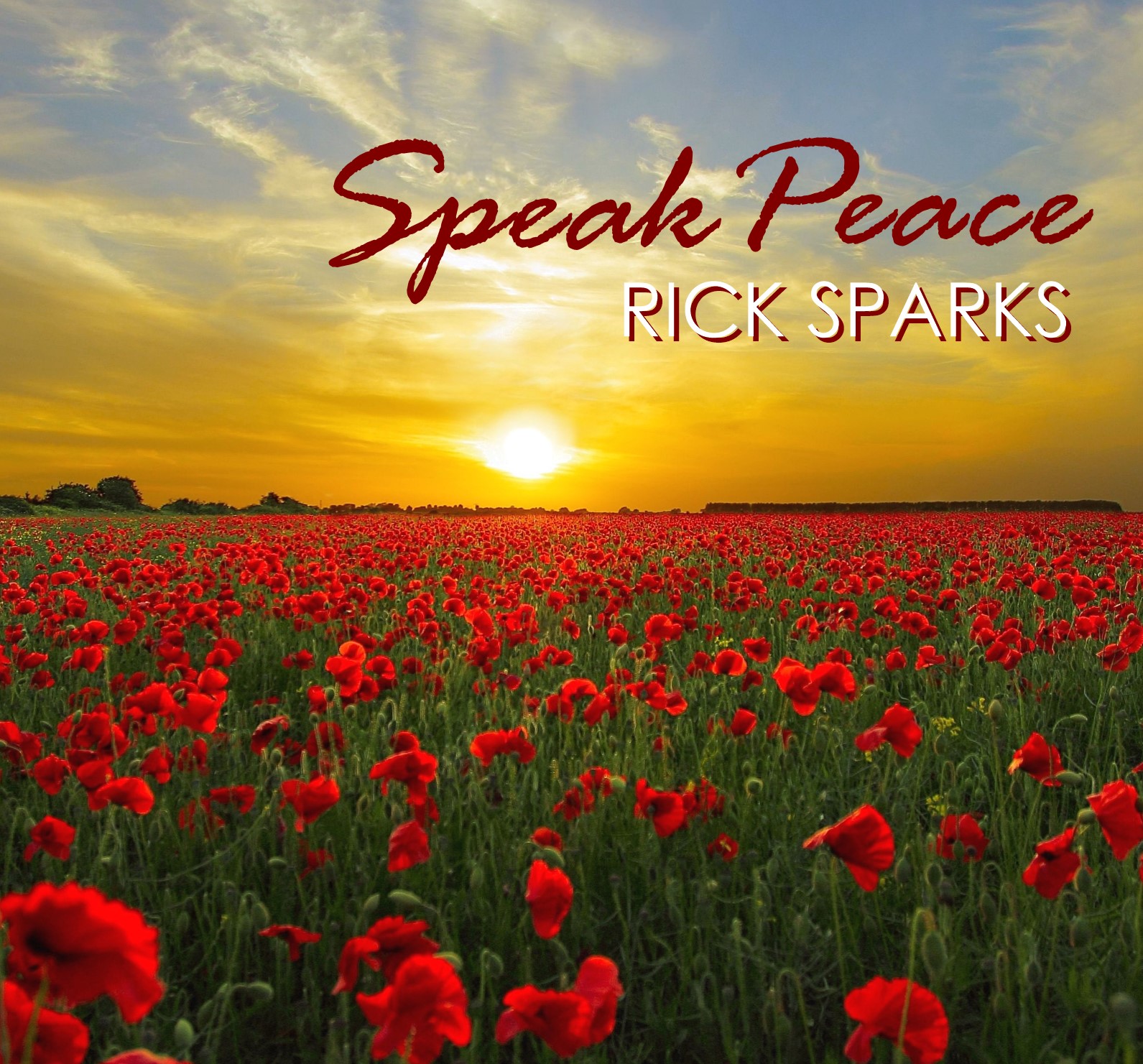 Rick Sparks | Speak Peace | Album Review by Steve Sheppard, OneWorldMusicRadio.com - 6/14/22 
 "A beacon of hope...to anyone seeking solitude away from the madness." - Steve Sheppard 
 Speak Peace (2022) - Review by Steve Sheppard, One World Music Radio
Rick Sparks is a unique musician of great quality, with just the first few bars of any song; you are immediately transported to a dimension of blissful calm, sublime serenity and pure peace, and here we are so grateful to have before us, another heavenly realm of musical majesty called Speak Peace. 
Speak Peace is also our first footfall within the wondrous heart felt passion of this beautiful album, if we as humans could have this level of love within our hearts, we would have no room for fear or hatred. Sparks is a master at creating soft sensitive pads of uplifting music and on this grand starting point, the ethereal quality and the sweeping strings make this one of the best openers I have heard for utterly ages. 
Speak Peace is an album of 11 incredibly beautiful songs; Sparks even has time to squeeze in a total classic of a cover, by bringing us one of the most tranquil versions of Neil Young's Harvest Moon ever. He also gives a tip of the hat to his Scottish heritage on Lass of Inverness, and a reflective moment of solo piano is also brought to our attention on the track 1912 Waltz, a piece that Sparks says he would have loved to have written for his grandmothers wedding. 
Speak Peace is a remarkable album; each track has its own special narrative, like Prayer for Ukraine, the main single from the album and a heartfelt plea for peace, respect and reconciliation, an amazing composition indeed, but one amazingly hard to keep a dry eye with. 
This album's radiant beacon of hope and peace can be found constantly within the weave of this entire creation, and even as we draw nearer to the final and concluding song, we are given one last opportunity to hold embrace and share the love and respect with others, on the last offering Auld Lang Syne.  
There indeed is far too much fear and hatred in the world currently, sadly these two components lead to hostility and worse, but beacons of hope like Speak Peace by Rick Sparks offer a way out of the darkness and into the light. Sparks has created here an album that literally exudes peace and tranquility, through the sublime and exquisite arrangements and compositional structures upon the release, I would recommend this album to anyone seeking solitude away from the madness, and make Speak Peace by Rick Sparks your musical sanctuary of choice.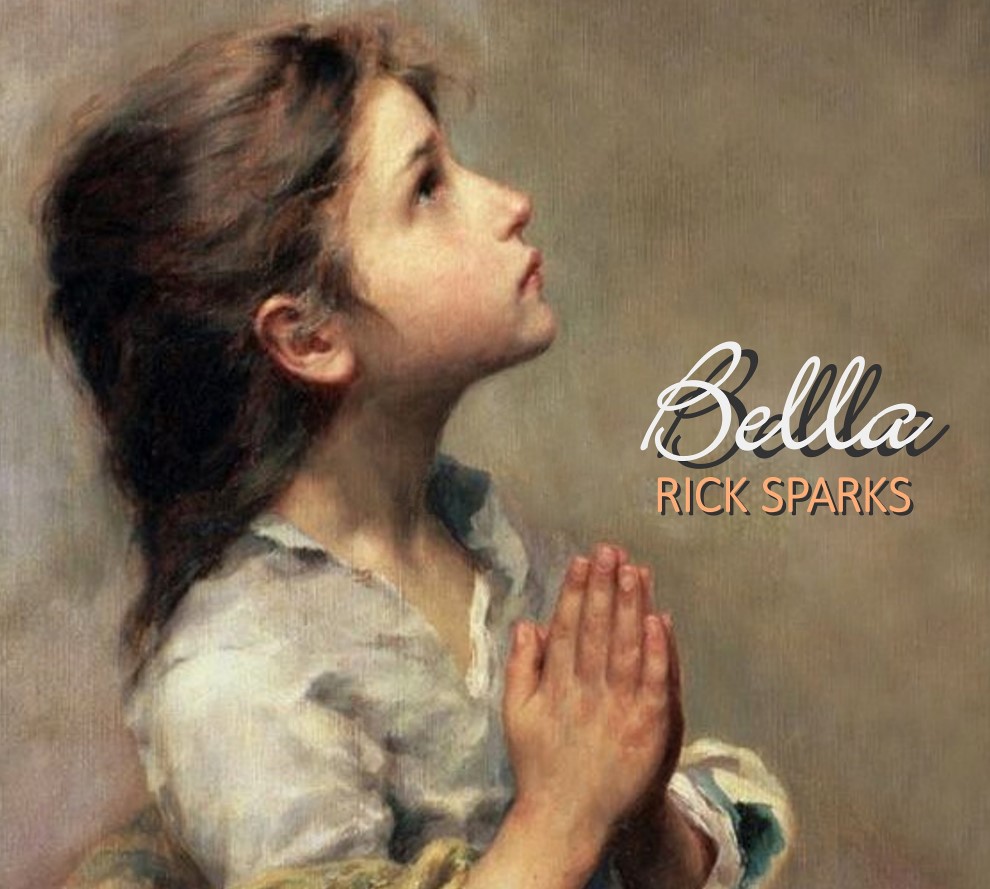 Rick Sparks | Bella | Album Review by Lissette Cascante, AuralAwakenings.com - 12/13/21
 "An exquisite listening experience... finesse & tenderness... sweet softness." - Lissette Cascante
 Bella (2021) - Review by Lissette Cascante, Aural Awakenings 
Hailing from Greenville, South Carolina, ASCAP pianist and composer Rick Sparks' soft music albums are heard worldwide on hundreds of radio stations, streaming channels, broadcast and online radio outlets. 
Rick's latest release Bella, his 7th album since 2014, was inspired by a 19th century painting (featured on the cover art) of a little girl looking up in prayerful expectation by Italian artist Roberto Ferruzzi who lived from 1853 to 1934. 
The title track opens this exquisite listening experience, successfully capturing the essence of the painter's intention in his portrait of beautiful Bella, as synth sounds of wordless angelic voices, and a soft piano are wrapped up in a dreamy melody, evoking a childlike innocence. Rick Sparks says "I am thankful to have found such a lovely inspiration for Bella's music. I very much desired that the album would reflect her transcendent beauty and the hope contained in her prayers." 
The album contains 7 new originals plus clever arrangements of three other songs such as Paul McCartney's "My Valentine" which Rick interprets with crystal clear finesse and tenderness as flute and piano carry this unique melody. In "Smiling" taken from a current Omega watch TV commercial jingle, Rick pairs his piano magic with angelic synth voices adding a sweet softness, like the joy in a child's smile. And in classical composer Antonin Dvorak's poignant "Going Home" (from his New World Symphony No 9) Rick's maestro arrangement for synthesizer and piano exudes a message of hope and reunion so many hearts yearn for in today's world. This is one of my favorites in the album. 
"Twilight Dreams" features pan flute, bells, and angelic voices. A dreamy composition envisions for me the beauty of a child in blissful slumber. 
"Autumn Rain" speaks of a quiet, reflective moment in the decaying season of a year nearing its end. Beautiful yet melancholy, inviting a walk in the rain or gazing out of a window watching the leaves fall softly in the autumn wind. 
"Highland Road" is a lovely Scottish flavored tune with pan flute, wordless voices and strings, piano, trumpet, transporting the listener to the scenic hills, open skies, and centuries old castles full of mystery, history and tales of a majestic land. 
"Last Goodbye" with its ethereal synth sequence is a song for pondering on life's losses, parting physically or in spirit, hopefully keeping the flame alive, as "A New World" melody takes you safely to your destination moving onward to uncharted territories. 
With a clear, serene piano melody, Bella beckons us again in "Her Prayer". It's as if Rick pulled Bella out of her silence to utter her prayer, words of reassurance and serenity exquisitely expressed through musical interpretation. 
Bella is a musical and spiritual experience which invites us to seek a strength beyond our physical confines and reach for that peace which passes all understanding, empowering us to remain content, resilient, and hopeful even in the midst of trials, losses and hardship. 
~Lissette Cascante for Aural Awakenings, www.auralawakenings.com  
December 13, 2021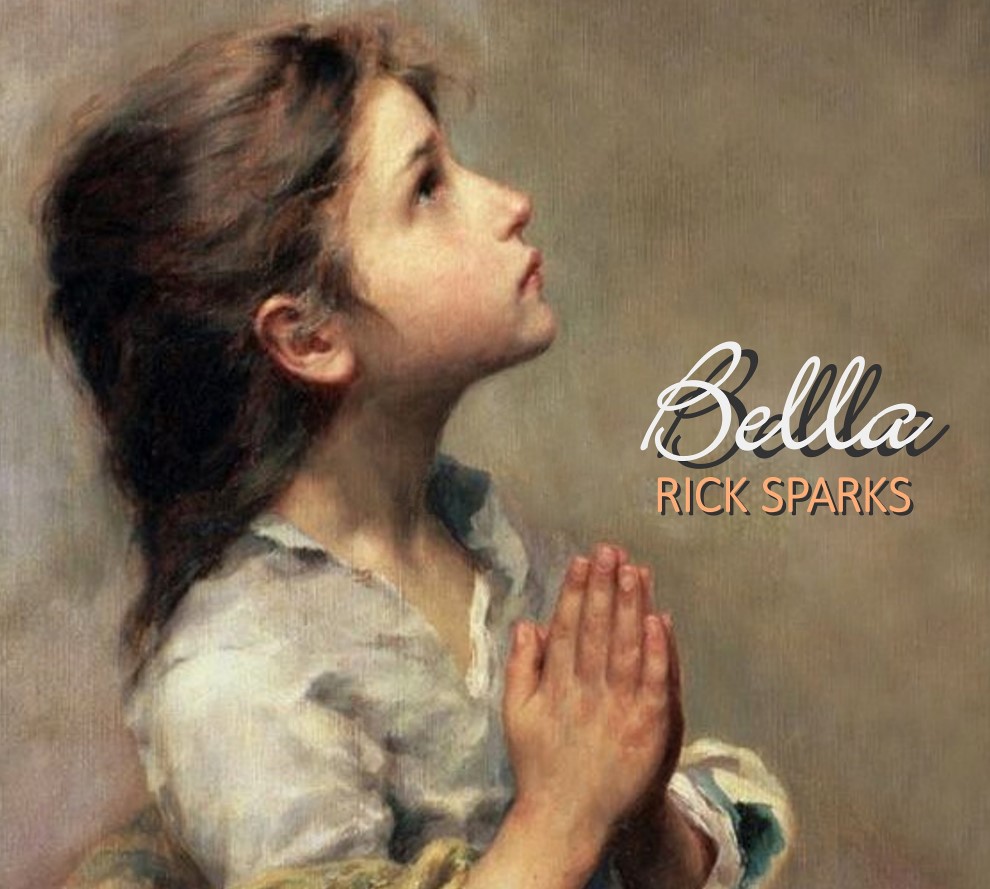 Rick Sparks | Bella | Album Review by Janet Mawdesley, BlueWolf-Reviews.com (Australia) - 7/28/21
"The purity of the music that forms Bella is timeless... enchanting." - Janet Mawdesley  
BELLA, by  Rick Sparks (2021)  
41 minutes  
Review by Janet Mawdesley
Gentle and soothing this latest release from Rick Sparks portrays in delicate tones the emotions and pure beauty of the child, known as Bella at prayer on the cover of the album painted by 19th century artist Roberto Ferruzzi. Who she was is lost deep in history but the purity of her intent is timeless, as is the music that forms Bella. 
Melodic and immensely peaceful the title song Bella introduces forty minutes of peace and tranquility with the gentle beauty of 'vocals' softly portraying an angelic ambience. The haunting beauty of the flute ushering in the lullaby Twilight Dreams, a rich and immensely soothing piece, perfect for allowing the mind and emotions to drift into timeless space. 
Autumn Rain floats across the keyboard with a delicate precision that is also gentle, unobtrusive but carries the delicate emotion of peaceful rest, once again overlaid with the sound of angelic vocals. 
Completely different, but still carrying that sense of slumber is the almost medieval sound of Highland Dreams. Pan flute leads in the piece, vocals once again filling in the background before the gentle wash of a more panoramic sound leads in the piano. Enchanting. 
Two pieces that compliment are Going Home and Last Goodbye, both written to offer solace to those who have sadly had to say the last goodbye. Gentle, introspective, then light and floating the melody portrays the souls journey as it travels safely to another home. 
Completing a beautiful work is the tribute to Bella, Her Prayer, with the purity of a child's prayer captured in delicate melody which brings to memory the words of the traditional and beloved of many child's prayer, 'And now I lay me down to sleep'. 
Words do not do justice to this softly emotional and gentle work which is absolutely perfect to simply take time out to listen, refresh, relax and replenish.
July 28, 2021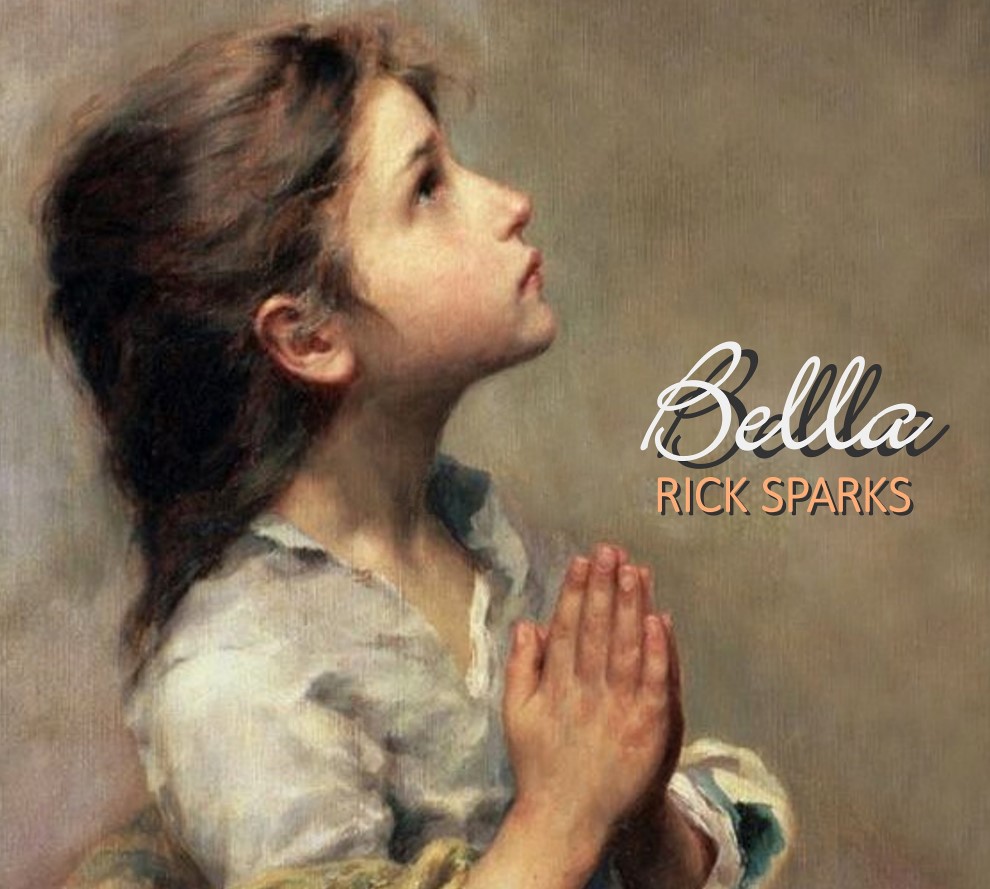 Rick Sparks | Bella | Album Review by Kathy Parsons, MainlyPiano.com - 6/16/21
"A graceful and stunningly beautiful album… one of Rick's best to date." -Kathy Parsons
BELLA, by  Rick Sparks (2021) 
41 minutes 
Review by Kathy Parsons 
Bella is the seventh album by pianist/composer/arranger/keyboardist Rick Sparks since 2014 and was inspired by a painting by 19th century Italian artist Roberto Ferruzzi of a little girl praying. No one but the artist knows the true identity of this little girl, but her portrait is the perfect expression of innocence, hope, trust and faith. "As a composer, these songs became an expression of Bella's (and our) life: her dreams, prayers, joys, loves, challenges, hopes, goodbyes, yearning for home & a better world." The album features seven original pieces and three covers, all arranged to maximize their peaceful, soothing and healing effects. "The songs of Bella became an oasis of beauty & peace for me during 5 months of production - I hope this album will do the same for the listener." It certainly does that for me! 
Rick Sparks' quiet piano-based music is heard worldwide on terrestrial and online radio stations. A Ph.D., Rick recently retired from his career as a broadcaster and teacher of mass communication. His 2020 album, Christmas Night, has been nominated as "Best Holiday Album Of the Year" by Zone Music Reporter. 
Bella begins with the title song. "To my mind, there is nothing more beautiful than the heartfelt prayers of a child. This song captures the essence of what I experience every time I view Bella's portrait." Slow, poignant and very peaceful, it instantly lets the listener know that this is a graceful and stunningly beautiful album.
The Celtic-flavored "Twilight Dreams" is a lullaby for Bella and "every child who finds solace and peace in slumber." Gentle bells suggest stars twinkling in a dark sky while flute, angelic voices and strings share a message of hope. Rick Sparks first heard "Smiling" in a television commercial for Omega watches! Composed by Harry Gregson-Williams, Rick arranged and recorded the piece for piano and strings.
"My Valentine" is a cover of Paul McCartney's 2012 single, a rainy-day love song arranged for piano, flute, keyboard and strings. "Autumn Rain" begins as a piano solo, adding strings and light choral voices along the way. The piano is a fantastic instrument for depicting rain and this one is very gentle and refreshing.
The pan flute on "Highland Road" magically transports us to the green highlands of Scotland. Piano and strings add tonal colors as well as their own magical qualities.
"Last Goodbye" reaches out to the huge number of people who said their "last goodbyes" to loved ones during the pandemic. "I used angelic voices to lend an ethereal, spiritual tone to the farewell." Piano, strings and organ also contribute to this deeply-affecting music.
The third cover piece, "Going Home," is a beautiful arrangement of the "Largo" movement of Anton(in) Dvorak's New World Symphony. Strings, piano and voices focus on the simple melody that communicates strong feelings of longing and loneliness. Considered to be one of the most beautiful melodies ever composed, Sparks' arrangement is simple and heartfelt.
"A New World" was composed as a companion piece to "Going Home": "heading for a new world that we so often dream of, a place of peace & love."
"Her Prayer" returns to the portrait of Bella for the final track of the album. The only piano solo, Sparks' expressive touch on the piano keys reflects the feelings of hope and sincerity found in that sweet little girl's face. 
One of Rick Sparks' best albums to date, Bella is available from Amazon, Apple Music/iTunes and streaming sites like Spotify. 
June 16, 2021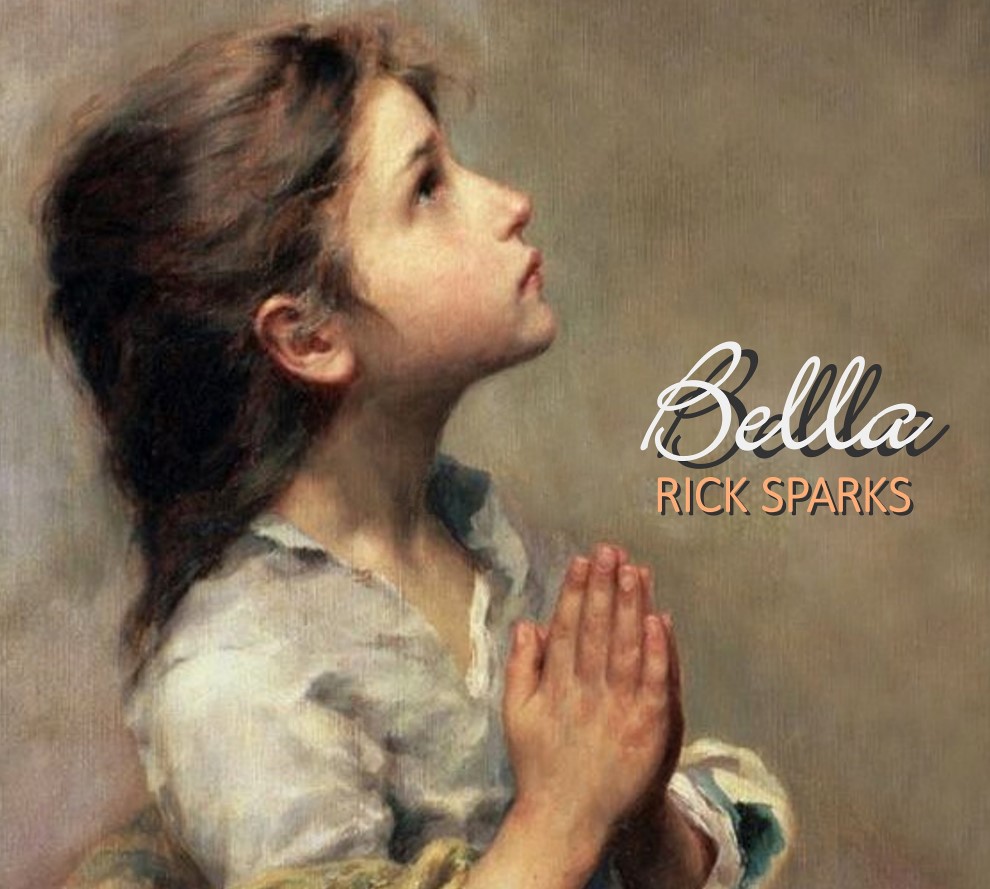 Rick Sparks | Bella | Album Review by Steve Sheppard, One World Music Radio - 6/9/21
"Musical magic... with each album, Sparks brings us calmness and serenity, and on Bella he adds innocence, charm and kindness." - Steve Sheppard
There is nothing I like to do more than sit and listen to the graceful poise and tone of a Rick Sparks album, and as such today I am a lucky man, I get to listen to and reveal my thoughts on Rick's latest creation, Bella.
The opening piece is one of the most charming and ethereal offerings I have heard from Rick for a while, and of course I am referencing to the title track Bella. The art work reveals all here, and the child on the cover, glows of an innocence that is beautiful all on its own, and shows the honesty and unconditional love she has.
There is a decided Celtic motif to this next arrangement entitled Twilight Dreams that is really colourful and quite pretty. The mood of this track is so serene, one could easily drift off and into a blissful sleep whilst listening to it; this pristine performance by Sparks on keyboards is simply delightful.
The piano starts us off on another long road of ambience, and this time the song is entitled Smiling, the symphonic beauty here reminded me of a mixture of Kevin Kendle's nature musings, and of course Sparks personal favourite Vaughn Williams in feeling and mood, here is a track that is so moving, it truly brought a tear to my eye.
My Valentine of course was released as a single earlier on this year, and was and is a beautiful addition to this album, the flute here makes a wonderful symbiotic resonance and is utterly transcendent.
The first few notes of Autumn Rain simply says it all, it is a time of the year when we all perhaps need to slow down and reflect. The gentle piano narrative allows me to visualise myself sitting by a window in early November, watching the seasons change and reflecting on the lessons of the past, learning from the actions taken, and then just floating with this mood filled opus of emotion and sincerity.
As we move into the second half of the album we come across what has now become my personal favourite Rick Sparks single of all time, and called Highland Road. Here is a Celtic melody that is so strong, fluent and colourful, it is an undeniable and a thoroughly picturesque portrait of instrumental music that you ever likely to hear in this genre.
The long hovering and floating musical narrative of Last Goodbye is now upon us, and here Sparks utilises his skill set of manifesting a composition and building upon its early constructions, and possibly into one of the finest symphonic creations on the album. A moving arrangement indeed, and redolent of some of the early new age styled tracks from many years hence, a sparkling heartfelt reminiscent opus indeed.
We have made it to the deeper realms of the album now and as we do so we come across a wonderful piece entitled Going Home, however many might also know it as Dvorak's New World Symphony, what many will not know was that this piece was my original introduction to classical music, by my father many years ago, and it was the bridge to a better relationship with him too, thank you Rick Sparks for its inclusion, and what a glowing and emotive arrangement it was as well.
The following and penultimate offering is, and could be described as the extension of the previous composition, and called A New World. Here Sparks creates a companion to the aforementioned track, could this piece be the performance that at last reveals a new age in this new world, where the energies of love and kindness for ever nestle closer to each other, in a oneness of spirit, sounds like Sparks has nailed that for me.
I must admit leaving an album and wrapping things up nicely is a really hard thing to do, but here Sparks does it so beautifully by playing out with the final piece called Her Prayer. A soft piano takes us to our beds, and we can reflect upon our stunning musical journey with the genius that is Rick Sparks and his latest album Bella.
Bella by Rick Sparks is yet one more page of bliss in the vast catalogue of musical brilliance by one of the finest instrumental artists in the new age field today. With each album Sparks brings us calmness and serenity, and on Bella he adds innocence, charm and kindness to the menu as well, how could one not recommend an album of this elk, music like this is a panacea to cure all ills.
Get "Bella" here: https://ricksparks.hearnow.com/bella  
Also available at Amazon Music, Apple Music/iTunes, Spotify & many other outlets.  
Artist website: www.ricksparksmusic.net 
Broadcast and Media Promotion: Sherry Finzer, Higher Level Media (info@higherlevel.media)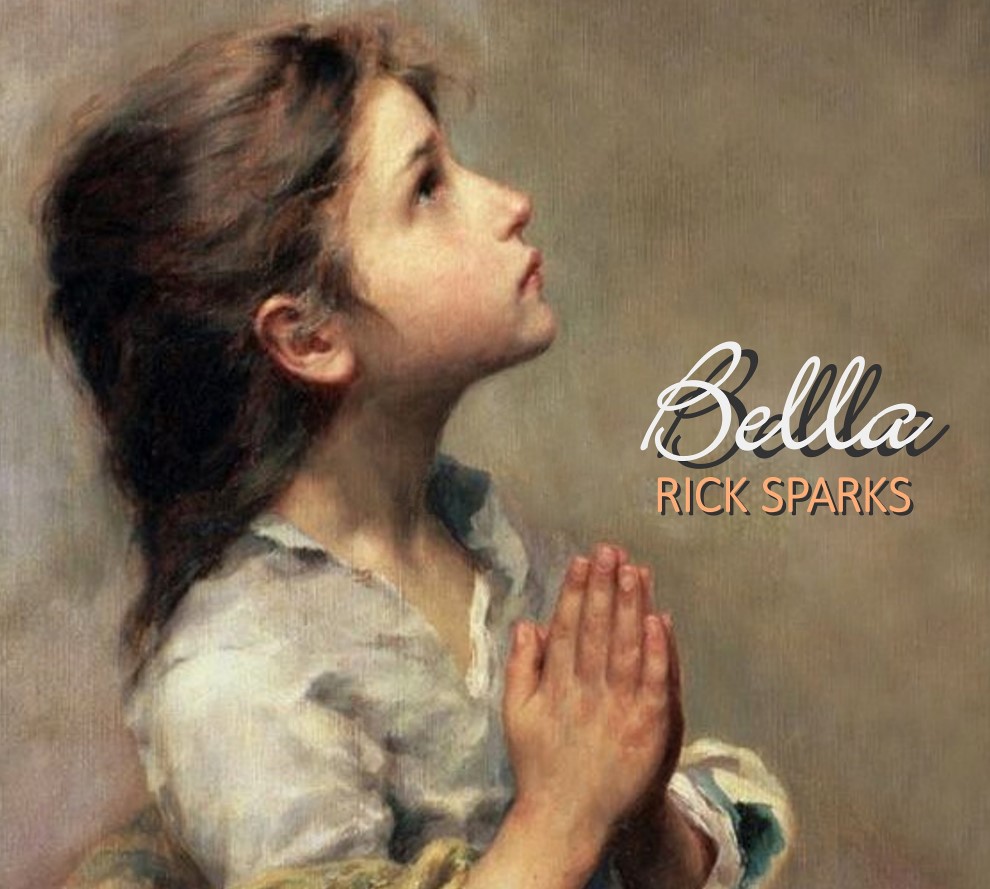 Rick Sparks | Bella | Album Review by Dyan Garris - 6/7/2021
New Age CD, New Age Notes, Zone Music Reporter (ZMR), Spirit Seeker Magazine, and Retailing Insight Magazine 
"Like a gentle, angelic call for peace. . .the album feels very healing with an intriguing blend of wisdom, elegance and innocence." – Dyan Garris 
Rick Sparks is known in the New Age genre for his melodic, piano based songs. Rick has also been an on-stage piano accompanist for many artists including Marilyn McCoo and Billy Davis Jr. of The Fifth Dimension, gospel great Alvin Slaughter, and American Idol finalist, Phil Stacey. 
What makes Rick's music stand out in his own distinctive "New Age" style, as found on his new album, "Bella," (June 2021), is his use of angelic choir; three-part vocal synth harmonies. Plus, added to that we have gorgeously cinematic synth string arrangements. With the addition of the flute, this makes "Bella" a lovely, soothing, angelic call for peace. 
The inspiration for the album came from a 19th century portrait by Roberto Ferruzzi of a little girl praying ("Girl").  "Bella" is 10 tracks, 7 new originals plus 3 other songs: Sir Paul McCartney's 2012, "My Valentine," "Smiling," from an Omega® watch TV commercial, and classical composer Antonin Dvorak's poignant, "Going Home," (sometimes "Goin' Home), an adaptation of the second movement from his New World Symphony No. 9. 
Antonin Dvorak began writing his Symphony No. 9, "From the New World," not long after arriving in America in 1893, where he had come to be the director of the National Conservatory of Music of America in New York City. Apparently, he had a deep longing to return to Europe, and the melody/song expresses that sentiment. So, I love that Rick has also included a track, "A New World" toward the end of album. This is a very soothing and pretty piece, which I believe invites us into a collective energy of unity. Flute, soft bells, tender synth strings, and gentle angelic choir add to that ambiance. 
Now, back to the beginning. The album opens with the title track, which sets a very soothing stage for all that follows, which is all in the same loving light. "Twilight Dreams" follows, which has a calming lullaby vibe. Flute and gentle piano gently embrace us and each other. Beautiful. 
The string and other synth arrangements on "Smiling" and "My Valentine" are wonderful, and both are melodic and peaceful. 
"Autumn Rain" is somewhat somber, with a gently repeating melody. This is contemplative and heart-stirring with its pretty strings and soft "oooh choir" giving it, again, that comforting angelic feeling found throughout the album. 
The flute melody in "Highland Road" gives the piece a kind of Celtic feel. Piano scintillates and the angelic choir soothes the soul. Very calming. 
Pretty and wistful, "Last Goodbye" is emotionally stirring. A bed of gently percolating percussion adds texture. As always, Rick has layered in just the right amount of strings. Piano, again, is gentle and moving. 
The lovely "Bella" closes out with "Her Prayer." Here is yet another one to love. This is so tranquil, so serene, we know it is coming directly from Rick's heart, Bella's heart, and the angelic heart, straight to ours. So very beautiful, all. 
Rick says that his desire as an artist is "to create music that feeds the soul, inspires and uplifts the listener with beauty and peace." Well, I should say, he heartily succeeds with every note. Peace be with us all. 
Get "Bella" here: https://ricksparks.hearnow.com/bella 
Also available at Amazon Music, Apple Music/iTunes, Spotify & many other outlets. 
Artist website: www.ricksparksmusic.net
Broadcast and Media Promotion: Sherry Finzer, Higher Level Media (info@higherlevel.media)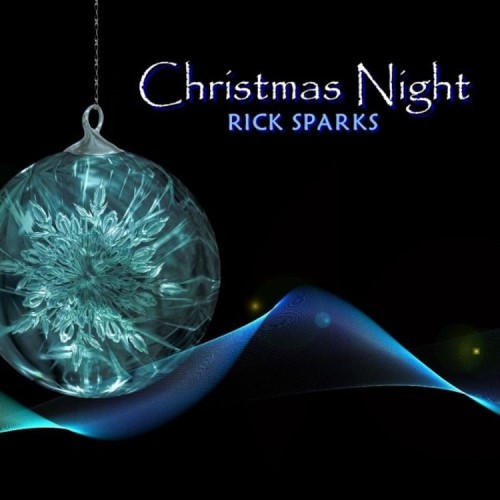 Rick Sparks | Christmas Night | Review by Candice Michelle (Journeyscapes Radio) - 12/23/2020 
"One of the most magical albums of the season!"  
Rick Sparks is a pianist and composer whose recordings have been warmly received in neoclassical, new age and contemporary instrumental music circles. He also heads-up the long-running internet radio station The Cove on Live365 which has been a leader in the field for many years. Having begun piano lessons at age seven, Rick subsequently lent decades of service as a church pianist and earned a master's degree in music. Influenced by iconic pianists such as George Winston and Jim Brickman, he eventually went on to release his debut album, Christmas Love, in 2007. Followed up by a handful of albums over the years, Rick recorded another Christmas album in 2020, which is his latest titled Christmas Night. 
Comprised of ten compositions spanning approximately forty-three minutes, Christmas Night was partly inspired by the annual BBC broadcast of the King's College Christmas Eve service in Cambridge, England. The ensuing result is one of the most magical albums of the season, with its synthesized arrangements of familiar carols and two originals prominently featuring celestial choirs, glistening bells and classical strings throughout. 
One of my favorite pieces on the album is the opening title track, "Christmas Night", which along with the closing piece, "Nativity", was composed by Rick. Delicately whimsical, it convey a wintry ballet feel that conjures images of falling snowflakes and the smell of evergreen trees. Also noteworthy is Rick's uniquely varied rendition of "In the Bleak Midwinter", which is led by a gentle piano melody accompanied by textural choral figures. 
Not surprisingly, one of the album's most soothing compositions is the classic Christmas lullaby "Silent Night", and if I didn't know otherwise, I could have easily mistaken this rendition for fellow new age music artist Liquid Mind. Musically evocative of heavenly realms and radiant streams of light, an alternate piano variation comes in towards the end as the melody seemingly moves in a cinematically ascending pattern towards the sky. 
Enthusiastically recommended to fans of both Christmas carols and peaceful synthesizer music, Christmas Night is a beautiful expression of Rick's personal faith and musical talent, which is suitable not just for Christmastime but all winter long!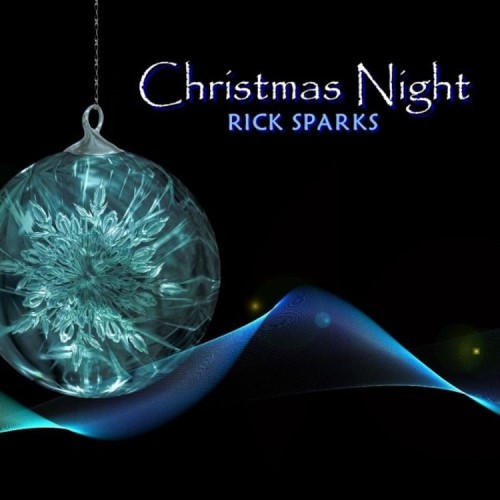 Rick Sparks | Christmas Night | Album Review by Dyan Garris - 11/5/2020 
Christmas Night by Rick Sparks 
Album Review by Dyan Garris for Zone Music Reporter (ZMR), New Age CD, and "Spirit Seeker Magazine" 
"Christmas Night is a special, angelic, calming, rejuvenating, Christmas album that is a "must have" for this season and all those to come." 
"Christmas Night" is the 6th solo release for composer and pianist Rick Sparks. The instrumental album is 10 tracks and was partially inspired by the annual BBC broadcast of the King's College Christmas Eve service held in Cambridge, England. 
Most of the tracks on "Christmas Night" are from the 19th century and are perfect for Rick's gorgeous neo-classical arrangements consisting of piano, strings, flute, bells, and angelic voices. There are 2 tracks on the album that are Rick's original compositions. 
"Christmas Night" opens with the title track, one of the originals by Rick. This instantly "says" Christmas with its soft, twinkly bells in the beginning of the piece. Sweet strings and angelic voices bring this all nicely together. This is a great composition, perfectly executed, and has a peaceful lullaby quality to it, which is very calming to the psyche. 
The equally calming "Christ is Born" follows. The bells at the beginning are beautiful and soothing, as is the lovely angelic choir, giving this, and the entire album, actually, a truly heavenly quality. A Christmas favorite, "The First Noel" is gentle and soft, with the flute taking the lead melody in the beginning. The soft strings and piano arrangements are superb, with the angel voices adding an ethereal quality. 
"Hark the Herald Angels Sing," is another well-known seasonal favorite and this arrangement is completely wonderful in every way. The angelic choir voices have the melody in the beginning, bringing more comfort and solace to soothe the soul. Aptly, we can really feel and hear the angels singing here, and the song ends with an angelic acapella choir. Quite lovely! 
With its flowing piano melody by Gustav Holst, beautifully played by Rick, "In the Bleak Midwinter" is a favorite on this album. Gentle strings and tender angelic voices complete the arrangement, which truly is exquisite. 
"What Child is This?" may be familiar to many as the "Greensleeves" melody. Again, here, the arrangement is outstanding and a variation of the traditional melody at the end of the piece makes this very beautiful. 
The melody for "Infant Holy, Infant Lowly," dates back all the way to the 13th century. This is very much like a lullaby, with the addition of some original musical bridges by Rick.  Another great arrangement here, with bells and angelic choir in the beginning, as well as sweet flute and more angel voices intertwined on the verses. Soft, gentle, sweet, and comforting. 
As I mentioned earlier, the album "Christmas Night" was partly inspired by the King's College Christmas Eve service. That service begins each year with the first verse from the carol, "Once in Royal David's City," which is sung acapella by a single boy's voice. Here, Rick does the same, only with "angel voices." Strings join in, and on the 3rd verse we have both angelic choir plus strings. 
The quintessential carol, "Silent Night" is always peaceful and calming. Here, the flute takes the lead melody making this sweet as can be. Strings, tender piano, and the angelic choir elevate us and the song to the high heavens. Really nice. 
The album closes out with the 2nd original composition by Rick on this album. "Nativity" is inspired by the music of English composer, Ralph Vaughan Williams. Wonderfully written, composed, and played, strings and angel voices give a beautiful finish to this special album. 
A note: When Rick asked if I would review this album, I told him I don't review Christmas albums. It's not that I'm a horrible Scrooge, but I am just not that "into" the season. He told me he thought I would really like this one and asked if I please give it a listen and reconsider. Well, I did so. And I don't just like it. I love it. You will too. This album is a "must-have" for this season and beyond. 
Listen and get it here: https://ricksparksmusic.hearnow.com/ 
Also available from Amazon Music, Apple iTunes, Spotify and many other outlets. 
Artist website: www.ricksparksmusic.net 
Facebook: www.facebook.com/rsparksmusic 
Broadcast/media promotion: 
LAZZ Promotions (Ed & Stacey Bonk) 
E-mail: lazzpromotions@lazzpromotions.com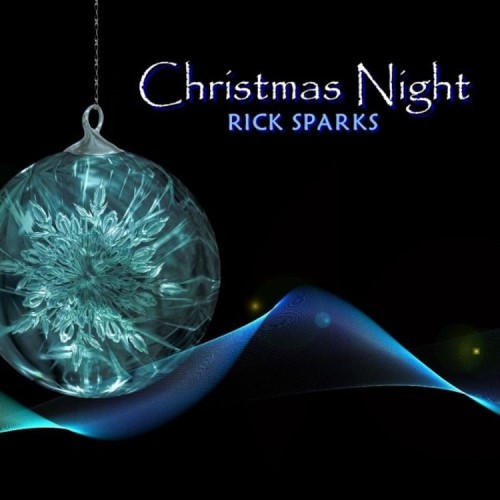 CHRISTMAS NIGHT REVIEW by BT Fasmer (New Age Music Guide) - 11/2/2020
When listening to Christmas carols, it is very easy to tell if the artist is genuine and "feeling it." There is little room for soulless performances and shortcuts when the audience already know and love the material. Other music genres tend to be more forgiving. This is one of the ingredients that makes Rick Sparks' new album "Christmas Night" so special. It is inspired. You can tell that the instrumental carols are selected and performed with love. "Christmas Night" also contains two originals that bind the album together, making it into a thoroughly enjoyable experience. 
Rick Sparks began music lessons at age seven and got an early taste of public performance when he began playing piano in church as a teenager. A visit to an antique store in 2007 set a new musical direction for him when he heard a solo piano album playing in the background. This experience made him want to record New Age music. Sparks has so far released six albums: "Endless" (2014), "Matilda's Flowers" (2016), "Nightfall London" (2017), "Half Moon Bay" (2018), "Hushabye" (2019) and "Christmas Night" (2020). In addition, Rick released the compilation album, "Dreams of Peace", in 2019, a collection of his best songs. Rick Sparks is also the man behind the very popular Live365.com channel The Cove. 
Regarding "Christmas Night", Sparks says: "The album was inspired, in part, by a wonderful holiday tradition: the annual BBC broadcast of the King's College Christmas Eve service in Cambridge, England. Each year, millions around the world listen as the service begins with a choir boy's single voice singing "Once in Royal David's City." That 19th-century carol perfectly sets the tone for the entire service, strikingly beautiful in its simplicity and reverence." 
Christmas Night - The Songs 
"Christmas Night" starts with the title track, which is an original. Gentle as falling snow, the theme instantly conjures the Christmas spirit in us. The bell-like synth and strings are soon joined by heavenly singers who transforms this snowy night into something divine. It is beautiful beyond words, totally unpretentious and honest. "Christmas Night" is, in short, a wonderful composition. Bravo! 
"Christ is Born", which we know from The Carpenters' 1978 album "Christmas Portrait", starts with church bells and choir. I love the deep synth pads and the gentle lead instrument. The piece is filled with classical inspiration, and of course the memory of Perry Como's vocal – who discovered and made this song famous in the 1960s (it was originally written in Latin by Domenico Bartolucci). Strangely enough, the piece feels complete – even without Como. 
The First Noel 
"The First Noel" is one of the most beautiful Christmas carols ever written. Sparks' version shows his ability to use strings to perfection, making the choir sounds divine. I like the sharp sounding bells and the tender sounding flute, making it easy to envision how "The wise men learnt its cause of stay, And found the place where Jesus lay." Wonderful, just wonderful. 
"The First Noel" fades into "Hark the Herald Angels Sing", which is always a terrific "bridge". The angel choir is arranged with love and skill. The acapella ending is superb. 
In the Bleak Midwinter 
One of the finest pieces on the album is "In the Bleak Midwinter". Gustav Holst's classical melody goes straight to the heart, many thanks to Sparks' arrangement with piano, strings and angelic voices. It is breathtakingly beautiful. I like how the piece develops, from the lonely piano in the intro to the full arrangement in the end, creating a warm and loving Christmas atmosphere. 
Sparks' take on "What Child Is This", including a new bridge of descending chords with strings and voices, is elegant, playful, and pristine. The analog synth keys are great, backed by Sparks string magic. The same can be said about "Infant Holy, Infant Lowly", a traditional Polish carol – which also has one of Sparks' creative and well-made bridges. 
Once in Royal David's City 
As mentioned above, "Christmas Night" is inspired by King's College Christmas Eve service. I'm extremely impressed by the vocal arrangement; It is not easy making it sound as good as this. Usually, vocal synths are used for backing – but here they carry the whole song, like a real choir. "Silent Night" proves this once more; you can almost "hear" the lyrics, it is that good! The flute section too is magnificent. 
The album-closing "Nativity", the second original piece, both defines and rounds off "Christmas Night" in a glorious way. It is, according to Sparks, inspired by the English composer Ralph Vaughan Williams. Given the selection of eternal Christmas music on the album, one should think that "Nativity" would sound more like an original – a bit out of place and less like a classic – but it is really on par with many of the carols here. That is a major accomplishment. 
In conclusion: Rick Sparks has delivered a superb Holiday album! "Christmas Night" is close to a perfect release, many thanks to the way the two original carols bind the album together. I'm also amazed by how a synth album can communicate the atmosphere of the King's College Christmas Eve service, which usually requires hundreds of singers and musicians, plus the enormity of the King's College Cambridge chapel. Just like the famous service, "Christmas Night" offers a rich and rewarding listening experience. It is a gift to the world. 
For more information and music samples, visit https://ricksparksmusic.hearnow.com/
"

(I was honored to have Dreams of Peace chosen by Kathy Parsons as a "Kathy's Pick" album at MainlyPiano.com!) Dreams of Peace: The Very Best of Rick Sparks Rick Sparks 2019 / Rick Sparks Music 61 minutes Review by Kathy Parsons Dreams of Peace: The Very Best of Rick Sparks is one of the most relaxing and soothing albums you are likely to hear anytime soon! It is a collection of fourteen of Sparks' most peaceful pieces from his five "quiet-music" albums released since 2014 (all five are reviewed on MainlyPiano.com!). Sparks' music is often heard on "Sleep Radio" in New Zealand, which should be a helpful point of reference. With the motto of "Music to replenish your spirit," Sparks has created a body of work that is more melodic than ambient, but still has that easy flow and beauty that uplifts the soul and provides a respite from some of the harsh realities of life around us - at least temporarily. In addition to original compositions and occasional covers, Sparks often includes familiar hymns on his albums, as he does on this one. "Brian [Wilson] always said that God gave him his songs - I feel the same about my music. My ultimate goal is to glorify Jesus Christ in everything I do. He's a big part of my music helping to 'replenish your spirit.'" Dr. Rick Sparks (Ph.D.) also serves as professor of mass communication at North Greenville University South Carolina and plays keyboards in his church worship band near Spartanburg, SC. The album begins with Sparks' beautiful arrangement of Sting's "Fields of Gold," one of my favorite pop songs. Performed on keyboards, the instrumentation includes flutes, strings and vibes as well as the sounds of rain and thunder. I have heard a lot of great arrangements of this classic, but this is one of the most peaceful. "Little Flower" is serene and soothing with piano, strings, wordless vocals - profound in its simplicity. "No Greater Love" was one of my favorites on Hushabye from earlier this year, and it's a favorite on this album as well. "Sand and Stars," for piano, wordless vocals, strings and guitar, could be the musical definition of "peaceful" - so smooth and tranquil. "And She Dreams" is almost magical with its slow, simple piano melody, angelic voices and strings. "Be Still, My Soul" seems to be one of the favorite hymns among pianists and this is one of a few piano solos on the album - simple, direct and sincere, it's a lovely arrangement. The title track also comes from Hushabye with shimmering flutes and ethereal strings providing an extended intro before the piano enters with the melody - both dreamy and peaceful! "Tokyo Rain" has a very quiet Japanese sound and is another piano solo - gentleness set to music! "Memories of Her" reminds me a bit of Kevin Kern - always a compliment! - with piano and strings and an unforgettable melody. Sparks' instrumental arrangement of the traditional "Auld Lang Syne" brings the album to a sweet and sentimental close. If you are new to Rick Sparks' music or if you'd like a compilation of his best music, Dreams of Peace: The Very Best of Rick Sparks is a must-have! It is available from RickSparksMusic.net, Amazon, iTunes, CD Baby and many streaming sites. December 3, 2019  " - Kathy Parsons
"

DREAMS OF PEACE: THE VERY BEST OF RICK SPARKS REVIEW BY STEVE SHEPPARD, ONE WORLD MUSIC RADIO Rick Sparks has pulled off something of a master stroke here on this his greatest hits album Dreams of Peace; it's a release perfect for the holiday season and for any time of year, it is jam packed with loving and warm compositions from his albums over the years. Each piece has been throughout time lovingly put together, and with such a thoughtful mind and heart, like this new version of Sting's Fields of Gold, a piece I know very well, as it was part of my singing course a few years back. Here the keyboards of Sparks create one of the mellowest moods you are ever likely to hear in a recreation of this ballad. With offerings like Little Flower the keys are stroked with a tenderness that is sublime, and come from his last soothing collection of great music Hushabye, then onto Dream Angus, a composition that originally takes us back to 2014 and his album Endless, and as if you may have guessed by the title, it has a sumptuous Celtic refrain to its energies. The exciting but mellow First Love, through to the more recent No Greater Love, both contain such an emotive signature to them and hold a sensitive angelic repose with ease. For our next offering we return to Half Moon Bay with the piece Sand and Stars, an album of outstanding natural beauty, the perfect track, for the perfect album, one which floats with a translucent beauty into the arms of this next pleasurable sojourn in music called And She Dreams. There can be no doubt, that by the time you reach here, your mood will be totally chilled. The second half of this 14 track collection of greatest hits gives us offerings like Be Still My Soul, the last track off the 2014 album Endless, and the inspiring Dreams of Peace, from the last album Hushabye, both tracks are bathed in the perceptive and delicate time signatures of classic new age music from the decades. Tokyo Rain is one of those tracks you just can't stop listening to, it's eastern styled melody and tones make a wonderful juxtaposition to the following composition entitled In the Bleak Midwinter, this connection of moods gives us our first Christmas classic as well, and in my view, one of the most relaxing versions I have ever heard. We can drift back to Sparks quite moving release from 2016 called Matilda's Flowers, through this next song called Memories of Her, a personal favourite of mine, it's warm structures and keyboards manifest a song that should be used in a movie romance scene. Our last two magical compositions comprise of When the Stars Come Out, a track to ease the soul and soothe the mind, and our final opus of grandeur in the ever young Auld Lang Syne, a piece of music that is usually the very last one to be played at the end of each year; the performance on this arrangement is as it should be, uplifting and thoroughly connective. Rick Sparks has done it again, it's the end of the year, but he has graced the musical airwaves with something so beautiful and tranquil it's the perfect Christmas gift. Sparks is one of those artists who will always manifest something special, warm and all-encompassing, and an album that contains such tender loving warm compositions on it like this, must always be completely recommended.  " - Steve Sheppard