RICK'S PIANO SHEET MUSIC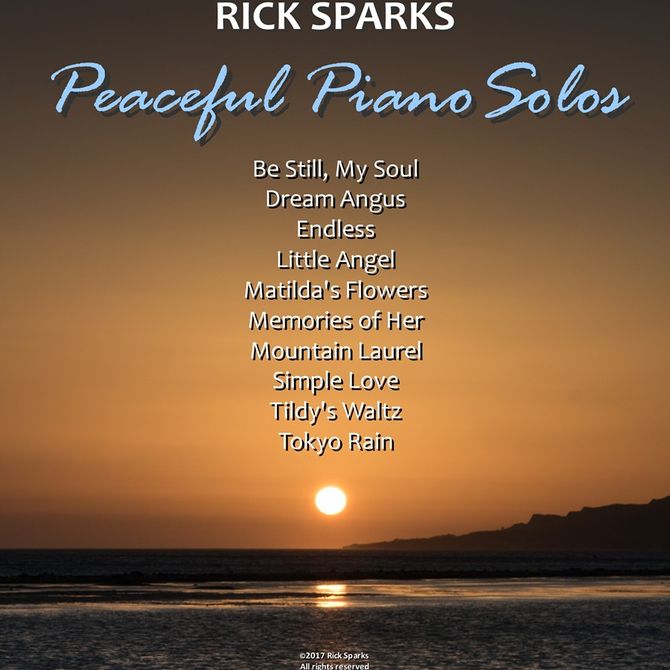 Rick's Piano Sheet Music
Peaceful Piano Solos sheet music is now available for purchase, both as PDF digital downloads and as a lovely spiral-bound print collection of 10 of my best piano solos!
My piano sheet music is professionally transcribed note-for-note exactly as I played these beautiful songs on my recordings. The songs are available as single sheet music PDF downloads ($4 per song), or as a print collection of all 10 songs for $20, including free shipping. You may pay via the PayPal link at the bottom of this page.
I would grade these songs as Level 2 (easy) to Level 4 (medium). To hear what they sound like, just listen to my recordings on my "Music Store" page.
SONGS
1.) Dream Angus is a lovely Scottish lullaby from my 2014 album, Endless. My most-played song on radio worldwide.
2.) Matilda's Flowers is the title song from my 2016 album dedicated to "the 1912 girl named Matilda." It is currently my most requested sheet music & my most-played song on SiriusXM.
3.) Be Still, My Soul, from Endless (2014), is my arrangement of the lovely 19th century hymn. The 1899 melody is by Finnish composer Jean Sibelius.
4.) Simple Love, from Matilda's Flowers (2016). Sometimes what we need most is simple love. 
5.) Little Angel, from Nightfall London (2017). Inspired by an infant's gravestone in an old mountain cemetery in Tennessee.
6.) Tokyo Rain, from Nightfall London (2017). Gently falling rain in the world's largest city - peace, tranquility, comfort.
 7.) Tildy's Waltz, from Matilda's Flowers (2016). The waltz I would have written for Matilda's 1912 wedding reception. :)
8.) Mountain Laurel, from Matilda's Flowers (2016). For the little girl on the album cover as she picked her favorite flowers.
 9.) Endless, the title song from Endless (2014). My love song to the Creator for the endless universe He created, as well as His endless love for us.
 10.) Memories of Her, from Matilda's Flowers (2016). I treasure every memory of the sweet, gentle woman who was my grandmother.
PURCHASE
To purchase my sheet music, click on this PayPal link & fill in the total ($4 per sheet music song download or $20 for the print collection): PayPal.Me/RickSparksMusic.  Please include your e-mail address if ordering digital downloads, or your mailing address if ordering the spiral-bound print collection. IF ORDERING DIGITAL DOWNLOADS, BE SURE TO TELL ME WHICH SONG(S) YOU ARE ORDERING WHEN YOU MAKE YOUR PAYPAL PAYMENT. When I receive your payment, I will e-mail you the digital PDF file(s) for the sheet music you have ordered, or mail you the spiral-bound print collection. Sorry, but I am only able to accept PayPal payments. Thanks so much! -Rick
Questions? Contact me via the "Contact" link in the menu at the top of each page.