BELLA Album Profile by Rick Sparks  
(Greenville, SC) – I am so pleased to announce the impending (June 1) release of Bella, my 7th album since 2014. The songs of Bella became an oasis of beauty & peace for me during nearly 5 months of production - I hope this album will do the same for the listener.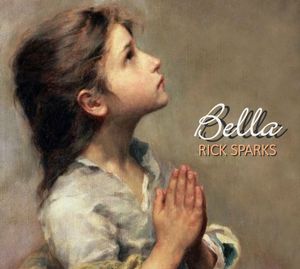 For Bella's cover art, I chose a strikingly beautiful portrait of a little girl praying by 19th-century Italian artist Roberto Ferruzzi. No one except the long-departed artist knows who the girl was or even if she was a real person, but her beautiful (bella) countenance was my continuing inspiration behind the album. In my mind, she could only be "Bella."  
I am thankful to have found such a lovely inspiration for Bella's music. I very much desired that the album would reflect Bella's transcendent beauty and the hope contained in her prayers. 
As a composer, these songs of Bella became an expression of her (and our) life: dreams, prayers, joys, loves, challenges, hopes, goodbyes, yearning for home & a better world. 
1. Bella. To my mind, there is nothing more beautiful than the heartfelt prayers of a child. This song captures the essence of what I experience every time I view Bella's portrait – beauty, peace, hope, trust. Although it is the first song on the album, Bella was actually the last song I wrote for the project - I rejected two other original songs I recorded for the title track during production. I'm so glad I kept trying! 
2. Twilight Dreams. The first of two songs on Bella with a Celtic flavor. Twilight Dreams is a lullaby for Bella and every child who finds solace and peace in slumber. I love the pan flute, the bells and the angelic voices of this sweet and hopeful song. 
3. Smiling. I was fortunate to hear this simple, lovely song one day on a TV commercial for Omega watches. I immediately decided that it had to be on the album. Quietly pretty (& a bit whimsical), Smiling gives a nice break between the more arranged songs on Bella. I recorded it as heard on the Omega commercial, adding only a brief section of angelic voices and an ending. My thanks to the original composer, Harry Gregson-Williams, for giving us such a wonderful song.    
4. My Valentine. One of 3 cover songs on the album and my first Paul McCartney song to arrange and record. Paul famously wrote this rainy-day love song in 2011 on Valentine's Day while on holiday in Morocco with his soon-to-be-wife Nancy. Paul was a bit down because of the rain, but Nancy told him it was OK because they could still be together. And thus, a lovely song was born. "What if it rained? We didn't care. She said that someday soon the sun was gonna shine. And she was right, this love of mine, my valentine." 
5. Autumn Rain. Sometimes we need the rainy days – the slower pace, the intimacy, the break from the usual. Rain can be a beautiful thing as it replenishes both the earth and our thirsty spirits. A simple piano arrangement carries the song, enhanced by strings and angelic voices. 
6. Highland Road. The 2nd of two Celtic-flavored originals, with melodic pan flute, voices & strings taking us into the lovely green highlands of Scotland - a good place to be. The piano bridge captures a bit of the rhythm & tempo of traveling on the highland road. 
7. Last Goodbye. Poignant & often sad, last goodbyes are a part of life that we always remember. As I recorded this song, I couldn't help but be mindful of so many who have experienced last goodbyes during this past year. I used angelic voices to lend an ethereal, spiritual tone to the farewell.   
8. Going Home. After Last Goodbye, one of my favorite classical songs came to mind, the Largo section of Anton Dvorak's New World Symphony. Written after he came to America (the New World) from Europe in the late 19th century, Dvorak's hauntingly beautiful melody captures his (and our) poignant yearning for home. 
9. A New World.  With the title suggested by Dvorak's 9th Symphony (New World), I wrote this as a companion piece to Going Home, heading for a new world that we so often dream of, a place of continuing peace & love.       
10. Her Prayer. To close the album, I returned to Bella and her prayer, asking God for peace & protection, help & provision, blessing on her family, a better world - all the things she (& we) hope for every day.